A lightweight, hybrid platform
They called it"Z2015". The new boat launched by Michel Desjoyeaux and his Mer Agitée team is an 18.28 m long and 9 m wide catamaran. Made of composite, from Orma trimaran floats, it has a displacement of only 8 tonnes. Designed to go fast on both sail and engine, it is powered by 2 Suzuki DF300AP XX outboard engines of 300 horsepower, mounted on liftable cradles. With a 23 m Imoca mast and 165 m² sail area, as well as a pair of foils, the expected performance is high. This hybrid sail and engine has CE certification. It can accommodate 12 people in the offshore version, and 32 people in the coastal version and offers 2 double cabins and a large kitchen.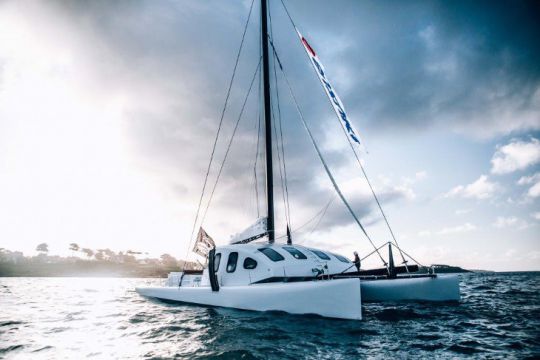 Meeting the needs of sponsors
The Mer Agitée project is based on one observation: there is no suitable tool to follow offshore racing effectively. While some all-motor boats have been designed, they generally have a low range at high speed and cannot follow an entire race. With its sailing performance, the Z2015 should make it possible to follow monohulls racing, while using the engine to be manoeuvrable during departures for media work.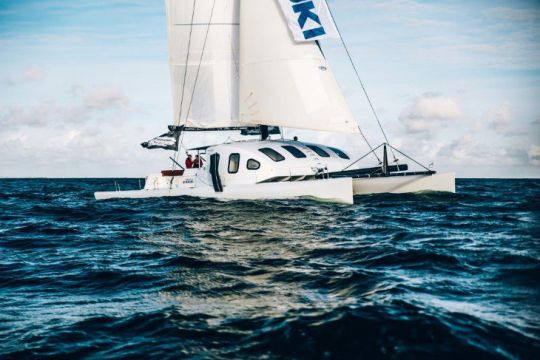 "The idea for this platform came from a need expressed by the partners and sponsors: to organise a reception area as close as possible to the racing boats, at the port, and to accompany them at sea. It is more and more difficult to offer employees and/or customers, partners, to embark on the Imoca 60, and other"race beasts" that are the Ultimate, Multi 50. The idea is to offer the possibility of accompanying training outings and other events, starts and finishes of races, by proposing a comfortable platform, with similar performances, which make it possible to follow them, not only to watch them run towards the horizon! There were no ad hoc tools."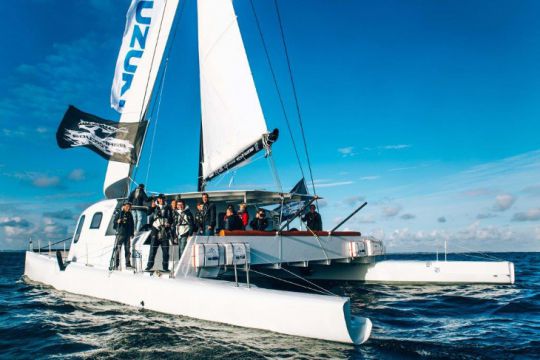 A promising start
Launched in late spring, the Mer Agitée catamaran started its career as a logistics platform for the Suzuki engine manufacturer during the Barracuda Tour Bénéteau. It is available for race starts and their follow-up. For the Mer Agitée team, it is also the equipment of choice to accompany future Imoca projects for the 2020 Vendée Globe.