Targeted presentations
During its investor day, the Bénéteau Group presented its financial objectives, but also its major technical and organisational projects, through presentations by various branch managers. After dealing with the economic aspect ( read here ), we return here to commercial, production and R&D projects.
New catamaran brand
In his presentation, Yann Masselot, Deputy Managing Director of Lagoon CNB, presented the main challenges for the Bénéteau Group in the multihull market. Faced with the growth of the catamaran market and its segmentation, the group announced the launch for 2018 of a new offer, complementary to Lagoon. Just indicating that it would adopt a new design mode and benefit from synergies within the Bénéteau Group, we can imagine different types of positioning towards more design or more performance, in view of the market analysis outlined in the presentation.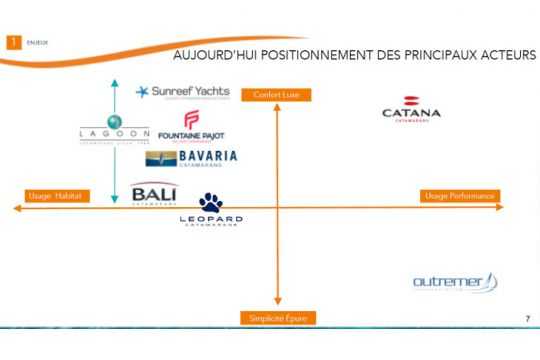 Wing rig, electric propulsion... Numerous R&D projects
Renaud Tourte, recently appointed head of product development and innovation for the group, presented the technical projects in progress, while insisting on the reorganisation of the design office.
Through an overview of current innovations, he has listed several projects:
Electric drive
Lift keel
"Sail L", a mix between wing and traditional soft sail
Dock&Go docking assistance system
Genoa furler on textile forestay
Rotary shower
Synthetic teak
Boat connected
Lightweight landscaping panels
By 2020, the Bénéteau Group wishes to increase its turnover by a third in relation to the number of hours of study, from 1800 € to 2400 €. By benefiting from the pooling of skills at group level and by increasing upstream R&D efforts, it hopes to increase standardisation and limit study hours during industrialisation. The aim is to reduce development times and costs.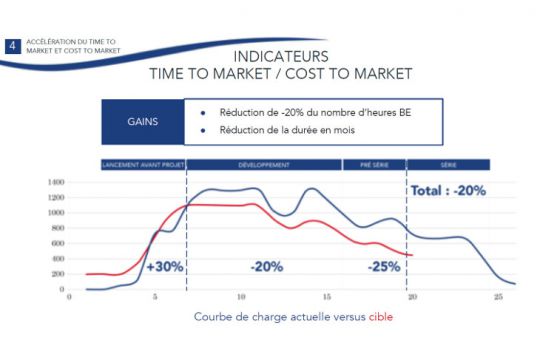 More production flexibility
Eric Stalin, Director of Operations of the Bénéteau Group, presented the future adaptations of production capacities. To respond to the evolution of orders and its large segmentation, Bénéteau plants will have to adapt. He cited the conversion of a monohull yacht factory into a catamaran factory, or the expansion of an outboard hull factory to meet increased demand. Finally, the production sites should be multi-product. For this, the assembly lines can be multi-axis, in order to reconcile various finishes and limited production locations.