A completely new range
Erplast, which has been making rotomoulded polyethylene optimists since 1985, started building beach catamarans in 2009 by acquiring New Marine's assets. The company makes 600 units per year for a turnover of 1.1 million euros. By retaining the staff and the KL and NewCat brands, Erplast was able to acquire the know-how linked to small multihulls in 2010.
In 2013, Erplast launches its first catamaran model, the M by Erplast which became federal support for the FFV in 2015. This 14 foot catamaran adopts a resolutely modern design.
The L, the M's big brother, continues the renewal of the range by adding a new 16-foot model.
Versatility for sailing schools
Designed for sailing schools, the L by Erplast offers the classic robustness advantages of rotomoulded polyethylene boats. In order to allow students of all levels to enjoy sailing, two sail plans are proposed. One allows a safe navigation for the discovery, the other is dedicated to a more sporting practice for the improvement. Erplast offers a unique support to schools for different uses.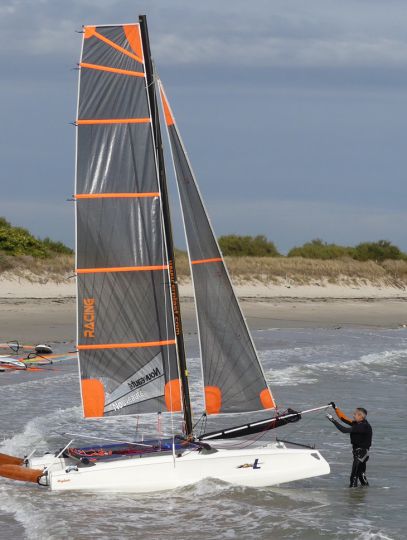 Characteristics
L By Erplast
Length: 4.70m
Width: 2.35m
GV: 10m ²
Foc: 4.50m ²
Spinnaker: 15m²
Weight: 160kgs
Marketing launched
The first public navigation of the L by Erplast took place during the tests of the Sextant power station. The boat will be presented at the Nautic and at the Boot in Dusseldorf.
Other models to come
The Erplast catamaran range should continue to expand in the next year, with the arrival of the 12-foot little brother, the S.
The NewCat rotomoulded models will eventually join the Access range, at a lower price allowing"low cost" access for customers with a limited budget.