Program Acceleration
Presented at the last Nautic, the Nau modular boat concept from boat to sports catamaran seduced the public. Louis Cottin, who initiated the project, indicates that the attraction for the catamaran version has led to an acceleration of the development programme. Some modifications notably allow a tool-free assembly of the hulls by a"grip-knob" system.
Already several pre-sales
Since last December, Nau has received several orders. The sale of 3 catamarans has already been recorded and several others are under discussion.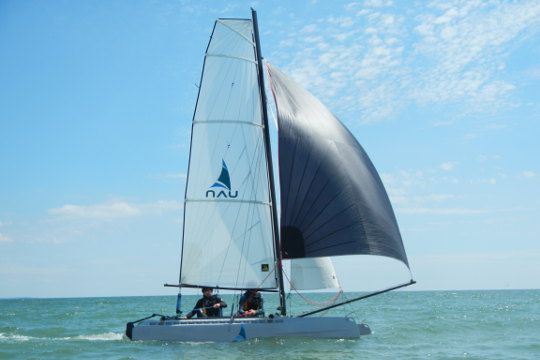 100% French industrial organization
Nau markets catamarans but has no production equipment. Louis Cottin therefore relies on a network of 100% French suppliers.
Kerpont Plastique, based in Lanester, supplies the rotomoulded hulls
Ag + Spars supplies the mast and the connecting beams
France - trampoline provides trampoline
North Sails supplies the sails
The assembly will be assured, in its premises, by Kenkiz marine on the ria d'Etel.
First series in August, complete range at the end of the year
A first series of 10 catamarans is planned for the summer, in order to honour orders and validate the network of partners. Nau wishes to optimise the design of the boat in order to present at the Nautic 2016, the first series integrating boat and catamaran.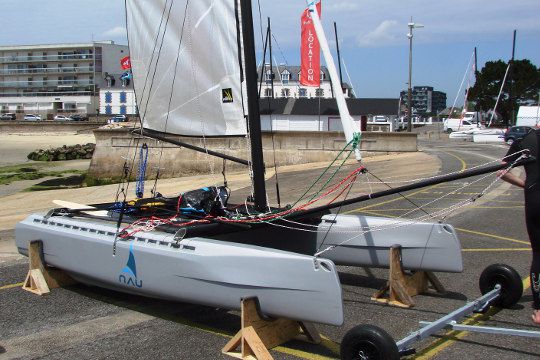 Continuing development
The initial partners were joined by new investors, bringing their number to eight. Complemented by the support of Crédit Maritime, Pays d'Auray and French Tech, these contributions will enable Nau to continue its development.
Present at the autumn fairs, and via a tour of the beaches during the summer, Nau continues its commercial policy. Discussions are underway to develop a distribution network.
If the first sales reach individuals, the concept has aroused interest among sailing schools. Nau will participate for this public in the sextant test days.