For over 40 years, the Spanish shipyard North Wind has been producing ocean-going monohulls. Cosy boats with saloon decks. If they are very well built with an exemplary finish, they are not known to be racing beasts, rather comfortable and safe sailing boats.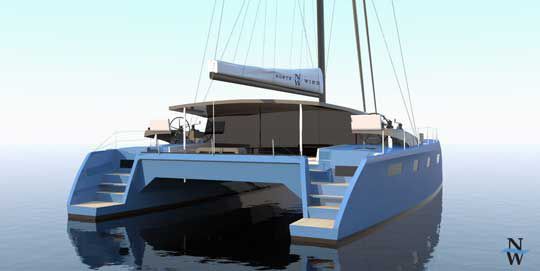 By announcing its launch in the catamaran, North Wind is also completely changing its philosophy. The future North Wind 55 will be a boat at the border between cruiser and racer, between cruising and racing. For this, the yard relies on a panel of subcontractors: naval architects (François Pérus, Romain Scolari and Gonzalo Redondo, director of D3 Applied Technologies), designer (Jonas Hertwig), 3D engineering (William Pegram de Isonaval)..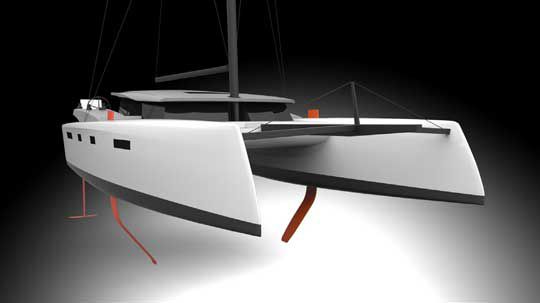 The first drawings show a boat with hull shapes reminiscent of Class A (U-shaped hull bottom). The bows are inverted and the sail plan set back enough to accept a self-steering jib, but not too far not to sink the skirts.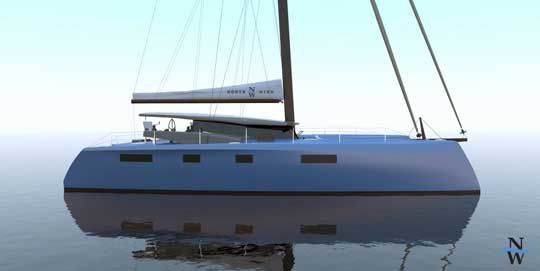 Two versions will be proposed: a version in glass fabric, vinylester resin and carbon reinforcement (Fast Version) and a hight performance version in carbon and epoxy resin. The daggerboards can be fitted with either curved or Z-shaped daggerboards. The latter, a kind of foil, associated with T rudders, should help to support the hull (but not to make the boat fly).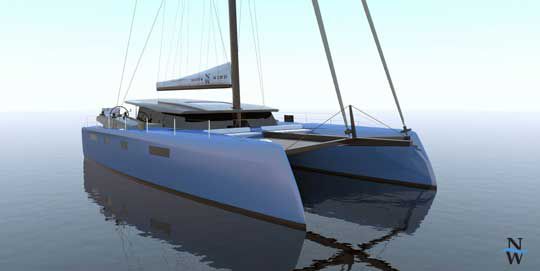 Among the details particularly thought on this boat - and they are numerous - one will note the entirely glazed deckhouse made possible with an ice system glued in sandwich and an offset structure inside. Besides the rigidity, these windows are light (weight divided by 5 compared to normal glazing). Big work also on the remote helm stations on each hull, which are protected, which offer a view on the whole boat and on which all the manoeuvres return (while passing under the bridge).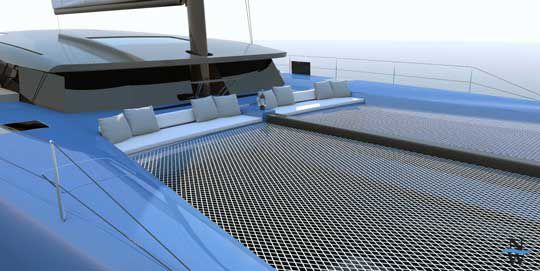 The North Wind 55 is meant to be fast, but must also remain manoeuvrable by a reduced crew. Hence the possibility of splitting the sail plan and having control over the whole boat from the helm station.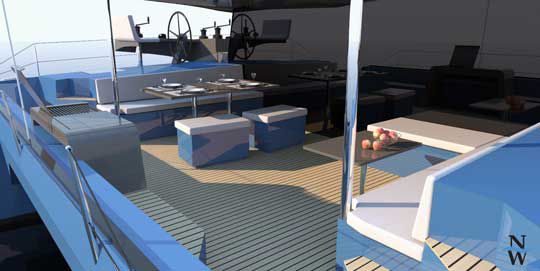 As for the layout, all the cabins and saloon are very bright with large glazed surfaces. The catamaran will be available in 2, 3 or 4 cabins. The basic version will start at 1 200 000 € HT and the carbon version will cost around 1 500 000 € HT.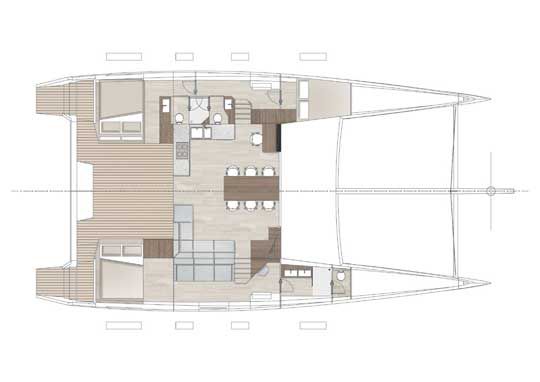 The mould is to be started in June 2016, the first hull put into production in November 2016 for completion about 1 year later. These delays seem a little short to discover the beast at the next cane show in September 2017.