Death of Olaf Harken
The co-founder of the famous Harken hardware brand, Olaf Harken, died on 21 October 2019, at the age of 80. He died in his sleep in Pewaukee, Wisconsin, where the company he founded with his brother Peter Harken is located.
Start-up in the construction of dinghies
Olaf Harken was born in 1939 in Indonesia to a Dutch father and a Swedish mother. After many trips and separations during the Second World War, the family finally found itself in San Francisco in 1946. With his brother Peter, they follow the family's moves across the United States and to the Philippines. Peter returned to Wisconsin to study economics, while Olaf graduated in engineering in Atlanta. Peter started manufacturing dinghies for the university market, joined in 1967 by his brother. Together they created the Vanguard Boats shipyard, which built these small sailboats. Peter quickly took care of the technical aspects while his brother managed the financial and administrative aspects. "When the company was just starting up, Olaf was in charge of the money. He kept the activity going. If I had been responsible for it, we would have had big problems," said Peter.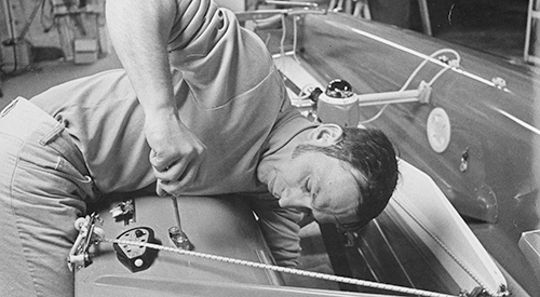 Development of Harken pulleys
The dinghies were used as a support for the invention that would make the Harken brothers' reputation. Designed by Peter Harken for E-scows and ice floats when he was a student, his plastic ball bearing pulleys are fast and significantly lighter than the stainless steel bearing competitors. They enter into an agreement with Accurate Products for manufacturing, a company they will acquire in 2010. Sold to Olympic champions Lowell North and Buddy Friedrichs, the pulleys became more popular and the activity began.
Transition to large pleasure and racing boats
Vanguard's activity continues. After the success of the 470, whose Harken brothers obtained the licence for the United States, the Finn ensured a good activity at the yard. On the hardware side, Harken, a company now independent of dinghies construction, is turning to the market for larger boats. By using Torlon, a new type of plastic instead of the softer Delrin used on smaller models, Harken develops large pulleys to support the loads of larger sailboats. After the application on the 12 M JI Sverige in the 1977 America's Cup, the sector developed.
Acquisition of Barbarossa winches
The Harken brothers finally decided to specialize in fittings and sold the Vanguard shipyard in 1986. At the same time, they acquired the Italian winch manufacturer Barbarossa. The activity develops and the Harken winches, the first to offer carbon dolls, equip the two finalists of the America's Cup in 1995.
Developed internationally with subsidiaries in France, Italy, Sweden, Australia, New Zealand, the United Kingdom and Poland, Harken has opened up to industrial markets, maintaining a leading position in the nautical sector with its catalogue of pulleys, trolleys, winches and reels.