Click & Boat buys Océans Evasion
Since its creation in 2013, the Click & Boat pleasure boat rental platform has already completed several changes. Created in the movement of boat rental sites between private individuals, the company survived and participated in the concentration of the sector, by buying Sailsharing, then Captain'Flit. Like the others, it then opened up to boating professionals to strengthen its business model. It is taking a new step forward by announcing on 26 July 2019 the acquisition of Océans Evasion, a Lorient-based company specialising in the rental of sailing yachts and catamarans. Click & Boat's workforce has grown from 115 employees to 125. Unlike the other brands, this one should be maintained. "Océans Evasion will continue as such and we will continue to develop the brand and the team in Lorient, while finding synergies and offering its services to Click & Boat customers" confirms Edouard Gorioux, co-founder of the website.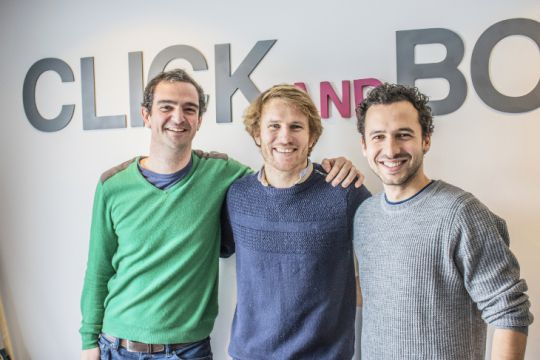 Founders Edouard Gorioux and Jérémy Bismut surround François Gabart, who is also a Click & Boat shareholder
Become a travel agency of the sea
Click & Boat wants to expand its services with this acquisition. It is in particular the work of Océans Evasion as a travel agency that interests the new owners. "Our ambition is to make Click&Boat move towards a one-stop shopping for yachting, where it will be possible in a few clicks to schedule all of your sea holidays, from plane tickets to hotel nights and boat rental," says Edouard Gorioux.
Differentiate yourself from the major boat rental companies
Click & Boat is now a survivor. Start-ups born on the wave of Internet boat rental, it is the last one not to have been bought and remain independent of the main boat builders or historical charterers, after the integration of SamBoat into Dream Yacht Charter. And it is on this specificity that the founders rely. "Today, not having our own fleet of boats is a strong desire of Click & Boat, which is committed to its independence. This makes it possible to keep a real relevance in advising clients" concludes Edouard Gorioux.