Preserve electronics on outboard boats
When consulted by a customer facing a problem with its electromechanical diode couplers on outboard motor boats, Dolphin Charger designed the ACS electronic coupler. The shipyard was blamed by boaters for the failure of the electronics when the engines started. Indeed, the excessive current draw caused a leak on the service battery, causing the electronics' defensive reaction. Dolphin Charger's design office solved the problem by replacing the electromechanical relay of competing products with a fully electronic solution using microprocessor-controlled MOSFETs. The ACS coupler acts as a relay and a current limiter prevents voltage drop on start-up.
Reduce losses and automate the load
By reducing electrical losses related to diodes and mechanical contacts, the ACS coupler has a standby consumption that is 70% lower than traditional systems. It thus limits the natural discharge during the boat's wintering period. Charge efficiency is improved by eliminating voltage drops between the outboard engine alternator and the batteries.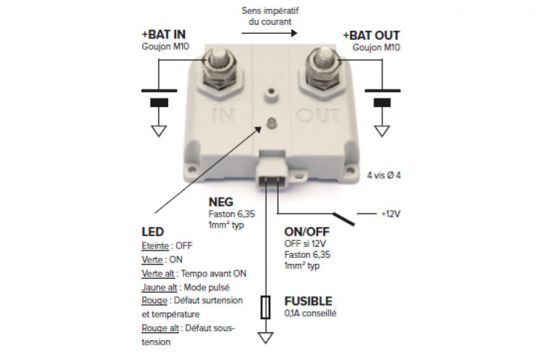 Facilitate the management of service batteries
While it is attractive in the first assembly, the Dolphin Charger ACS coupler also finds its place in the second assembly. Boat rental companies see it as a safer way to use it. "The automated system ensures that a customer who has left his fridge on all afternoon can be restarted. While he could have drained the starter battery by improperly using a manual switch system," says Nicolas Fata, OEM and export sales manager at Dolphin Charger.
Reliable and easy to install
Already sold in thousands of copies, the ACS coupler is completely reliable. The absence of moving mechanics prevents the risk of wear and tear. The product is guaranteed for 4 years.
Easy to install, it is IP67 and ISO 8846 certified, the explosion-proof standard for gasoline powered boats. The coupler can be positioned anywhere on the boat.
Distributed by VDM Reya and Accastillage Diffusion, the Dolphin Charger ACS coupler is available in 2 sizes:
50A direct current (120A peak current) for the most common boats at the public price of 114? including VAT
80A (190A in peak current) for the largest units at the public price of 144? including VAT