Facilitate 12V/24V dual installations on board ships
"The Booster range was born from a problem of our shipyard customers in the original equipment sector. Sailboats with 12V main installation often have 24V bow thrusters for better performance. They therefore needed a real charger to supply their 24V battery fleet from the 12V network," explains Nicolas Fata, OEM and export sales manager at Dolphin Charger.
A range of DC/DC chargers
Dolphin Charger's Booster range offers DC chargers. Unlike converters often installed, it is a real charger with the corresponding intelligence. It offers 4 charge profiles adapted to the different types of batteries: LiFeSO4, Free electrolyte, Gel or AGM and Boost and Floating modes.
The most common model, with a rating of 30 A, represents 90% of sales. It has a 12 V DC input and a regulated 24 V DC output. For larger boats, a 15A gauge is available to charge 48V batteries from a 24V circuit.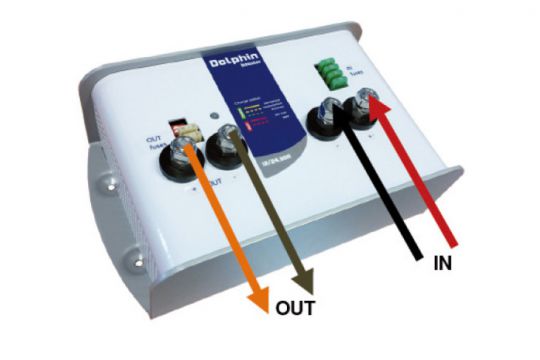 Avoid redoing the electricity on board
The addition of equipment on board during the life of a vessel is commonplace. Modifications can range from bow thrusters to the installation of an auxiliary electric motor. With a Booster charger, the installer and the yachtsman save installation time and investment in a second electrical circuit. It is thus attracting shipyards and boat rental companies in the aftermarket.
Half the size of a conventional charger of equivalent power, the Dolphin Charger Booster is easier to fit on board. 4 fixing bolts and 4 electrical connections are sufficient for its operation.
After-sales service
Distributed in France by VDM Reya, the Dolphin Charger Boosters are supported by the network. These products are guaranteed for 4 years.
The Dolphin Booster 12V/24V 30A is available at a retail price of 505 euros excluding VAT.