2,000 m² for the shipyard Escale Technique
The Escale Technique shipyard is located in Saint-Philibert, in the Kerran business park, near the La Trinité-sur-mer marina. In the narrow in its 10 000 m² of land, the company offers itself an additional 2 000 m² and a new hangar. Its manager, Grégoire Suquet, took the opportunity to use the available land nearby. "It was a good opportunity, with 2000 m² available on the next plot. There's just one barrier to remove!"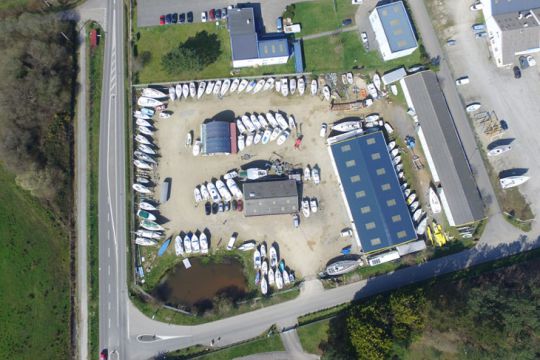 Host larger and more numerous boats
The Escale Technique site is growing its activity and has reached saturation point. "Today, we can store up to 250 boats, but I had to turn people away because of lack of space," explains Grégoire Suquet. "With the new terrain, I plan to build up to 350 boats. There is also an evolution. The boats are growing and taking up more and more space. Since my arrival (Editor's note: 5 years ago), the average size has increased from 5.5 m / 6m to about 10 m in length."
Escale Technique also houses a USHIP relay hardware store. The hangar on the new site, only 4 years old, will allow the store to be rejuvenated. It will also house the site offices.
Integration of Bateaux Transport Morbihan
Before his arrival at the head of Escale Technique, Grégoire Suquet had launched the company Bateaux Transport Morbihan. The company offers transport services for medium-sized boats, as well as boat preparation on arrival if requested by the customer. "The idea is to use light vehicles for boats between heavy goods vehicle and private vehicle," says the founder. "This will now be another offer within the shipyard, as Escale Technique buys Morbihan Transport Boats."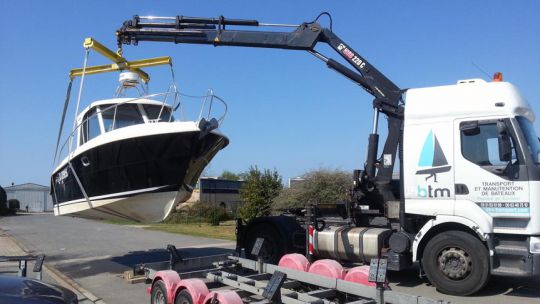 Work in partnership with boating professionals
Marine mechanics is the main profession of Escale Technique, which employs 3 mechanics and will have a 4th specialist for the season. The company also carries out handling operations for other sites. On the other hand, for all work on board boats, she turns to her colleagues in the nautical industry. "The idea is to work together. There are many small self-employed people in the sector today. For all small lamination or wood work, I send my customers back to them and they turn to me for handling," adds Grégoire Suquet. Escale Technique thus deserves its name as a meeting point for technicians!