A 100% electric boat
Nicols, a boat rental company on European waterways, has also been building its barges in Cholet for 30 years. Unlike its units traditionally equipped with internal combustion engines, the Sixto Green, the latest addition to the site, 13.5m long, is equipped with a water-cooled 20kW 48V electric motor. The energy is supplied entirely by a fleet of 12 Lithium-Ion batteries. It is the adaptation of an existing thermal model. Replacing the fuel system with electric propulsion saves around 230 kg of weight, says the manufacturer.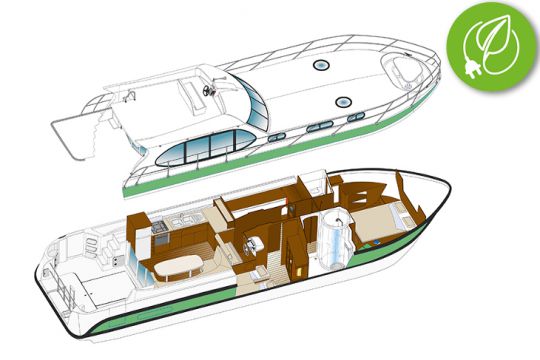 Sixto Green Plans
Limit recharging constraints
Batteries must be recharged at dockside. To this end, Voies Navigables de France (VNF), a partner in the project, has installed 10 rapid charging stations on the Alsatian canal section where the experimentation is taking place. "For the experiment to succeed, it was essential that there were enough boundaries. With 10 connections over a hundred kilometres, a maximum distance corresponding to approximately 1 to 1.5 hours of navigation, customers can stop whenever they want. The boats have an autonomy of 6 to 8 hours of navigation, thanks to a very dimensioned park. The batteries can be recharged in 2 hours, the yachtsman is very free of his program, knowing that the average time of navigation per day is about 4 to 5 hours. We avoid the feeling of thread at the leg," explains Corinne Dufaud, Nicols' sales manager.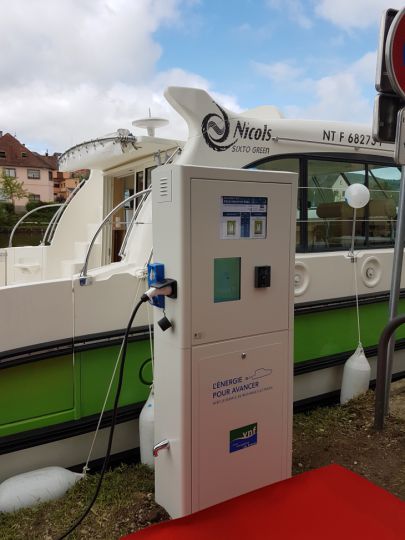 Electric charging station for river boats
Validating an economic model for river electricity
VNF and Nicols are taking advantage of the Alsatian experience, planned to last for 2 years, to clear the economic model of the rental of electric river boats for cruising. The public manager paid 460 000 € for the 10 fast charging stations. For each rental, he receives 220 € from Nicols for consumption, taken from the consumable fixed price of 300 € invoiced by the lessor to the customer. The latter is for the same amount as that paid for a thermal boat. On the other hand, the rental of the electric boat is charged 15% more expensive than the traditional tariff, to cover the cost of development and construction of the model, estimated 50% higher than the thermal equivalent.
In order to make the charging stations profitable, they have been designed to adapt to the charging of bicycles for river tourism or for VNF electric vehicles.
Encouraging feedback
"The opening to the first boater was made on April 30. The first very positive feedback, especially on autonomy. Alsace is a very international market and fond of this kind of thing. This supports our objective of being able to define what other size of electric boat we could build and to deploy the concept in other regions" concludes Corinne Dufaud