Saffron shovels made of ecological materials
Atelier Interface, a shipyard created by Antoine Mainfray and based in Charente-Maritime, exhibited the rudders of his next yacht, the Aloes 18, at the JEC World 2018 in the Innovation Planet"Make It Real" area. The originality of these rudder blades lies in their materials, respecting the environment as much as possible. The core is made from recycled polyethylene terephthalate (PET) foam. This is the material used for our water bottles. The sandwich skins are made of bamboo fibres, while the resin used is partially biosourced. The part is made under vacuum by the infusion method.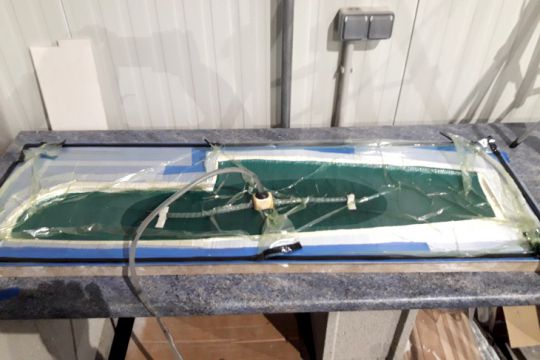 Safran in production
A partnership project to move into reality
L'Atelier Interface is working on the project of its rudder blades with several partners. Cobratex supplies the bamboo fabrics, Armacell the PET core and Resoltech the epoxy resin. "This is part of my internal research and development process. The aim is to do something other than laboratory testing and to move on to real tests, with more complex forms than simple plates. We will be able to see how parts age with real use," explains Antoine Mainfray.
Accelerated ageing tests are underway with Ifremer. Cobratex thus continues the development of its products and Armacell continues its implantation in the nautical sector.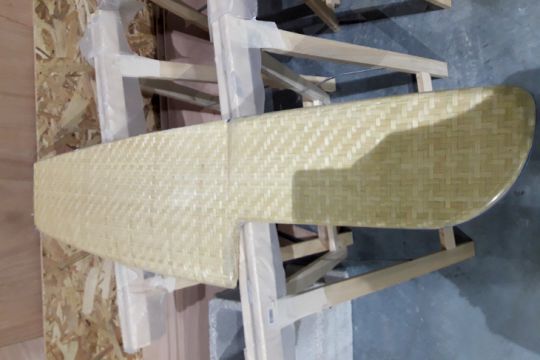 Bamboo fiber rudder blade
A customer who listens
To engage in real experimentation, you also need a boat owner willing to collaborate. The Interface workshop had the chance to meet him. "The customer of the next Aloes 18 was ready to try parts with"less dirty" materials. It was an opportunity to test these biocomposites."
More Aloes to follow
The Aloes 18 is the first model in the Atelier Interface range. The second unit is under construction. It should soon be joined by new models. The yard announces the arrival of Flow 19 and Aloes 25. The experience of bamboo fibre rudders, if successful, has a bright future ahead of it.