Can you remind us of the steps taken to relaunch Guymarine and White Shark since your arrival?
Nicolas Chiloff : Since I took over the site in March 2016, we have begun a thorough work on production. The aim was to get back on track in good conditions. I hired Xavier Le Cosquer, an engineer in charge of production management, who already had experience of major boatyards. We had 3 main areas of work, namely quality, delivery time and price. After relaunching the existing boats, we are now presenting the White Shark 300 at the 2017 Nautic, the first new boat in the range since my arrival.
What about the commercial and industrial aspect to date?
Nicolas Chiloff : Revenue is at the level expected by our business plan when the recovery takes place. The big difference is the export share, which represents 70% of the turnover, whereas it was almost non-existent when I arrived. After a year very focused on Northern Europe in 2016/17, the Mediterranean is the driving force in 2017/18, with significant activity in Spain, Italy and the Maghreb. The Guymarine and White Shark brands each represent 50% of the business.
The dealer and distributor network had suffered greatly. We have done a lot of work to restore the desire and trust of our partners. The pillars of the network are taking back boats from us, which shows that it has paid off. We now have a strong demand for new dealers to join the network.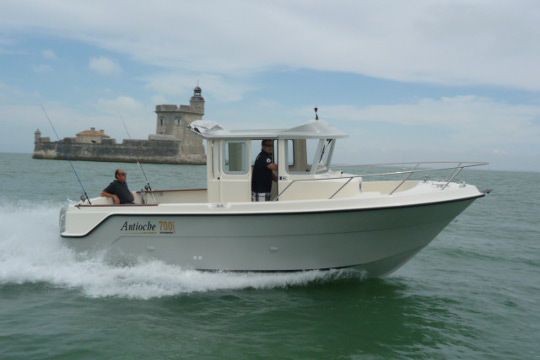 What are the growth prospects?
Nicolas Chiloff : The development is good. We are now about fifteen people. A reflection is being studied to enlarge our building because we are a little cramped in our 1500 m². The hangar houses the production of the two brands Guymarine and White Shark, even if they are managed separately.
To grow, you have to hire. We are working with the Pole Emploi and the Communauté de Communes de l'île d'Oléron to set up a training programme for island boating manufacturers.