A complete bailout solution
Cyclone Irma destroyed and sank a large part of the pleasure fleet on the islands of Saint Barthélemy and Saint Martin. The wrecks must now be refloated to be subsequently destroyed or repaired according to insurance expertise. The French shipowner Jifmar, specialized in maritime works, and the underwater intervention companies Ceres and Techsub have joined forces to offer insurers a complete solution. This consortium is based on numerous past collaborations between companies during underwater operations and wreck salvage operations in France or abroad.
Technical means
Jifmar is mobilizing the Multicat Roxane Z, a 34-metre vessel built in 2015 and equipped with two cranes capable of lifting 20.5 T at 14.05 m and 10.3 T at 16.50 m respectively. In addition, if necessary, the shipowner can send the JIF Maoré, a 17 m multi-cat, equipped with a crane capable of handling 1.5 T at 12.50 m. A fleet of additional equipment (semi-rigid, diving support, landing craft) will be dispatched from the metropolis and available on site within 14 days.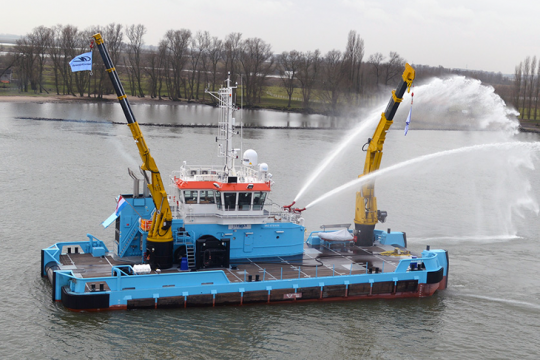 Ship Jifmar Roxane Z
Techsub will send a team of 9 divers to Saint Martin. Ceres will mobilize a bailout expert. 100T of buoyancy in the form of parachutes will also be sent on site, as well as side scan sonars, in order to conduct post-lift surveys and thus guarantee the complete removal of the wrecks and the preservation of the environment. These will allow an important inventory to take stock of the consequences of cyclone Irma.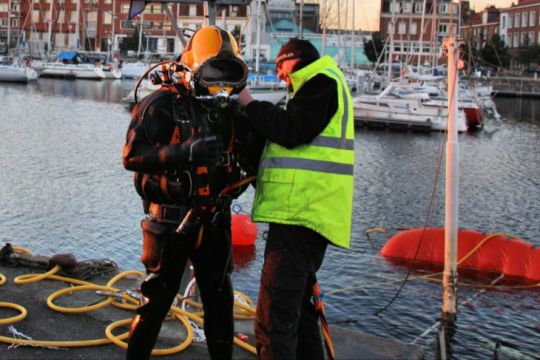 Scuba diver preparing for a wreck salvage operation
Offering the best reactivity
"The objective was to propose a rapid reaction with a global offer of French companies, whereas we know that the Americans, close to the zone and the Dutch, specialists in the sector, can be very reactive. As political decisions take time, we are currently on standby, ready to go," explains Bertrand Sciboz, Ceres Director, at BoatIndustry. Good knowledge of French law should also be an asset when dealing with foreign companies...