Supporting development
Goļot Systems equips itself with a new machining centre for Phantomatic aluminium profiles. This new machine will be used in particular for small series of parts intended for the new ranges of sliding bays for multihulls and for slim type flush deck panels.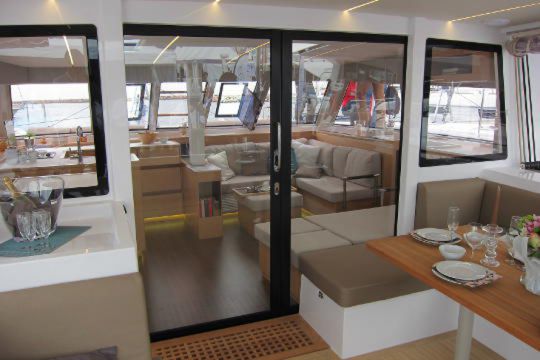 Goiot sliding bay
Return on investment
This purchase of around 100 € k? remains modest but marks the return of the investment at Goļot Systems. For Jacques Leblais, who took over the Nantes-based company in August 2014,"When we took over the smoky ashes of a company, regaining the confidence of leasing organisations is an important stage
A second second-hand machining machine should also integrate the Goļot workshops by the end of 2016.
Increasing load plan
These new machines reflect Goļot Systems' growing business. Indeed, faced with an increasing workload, the company has hired a dozen operators since July 2016. The machining and anodizing line employs two shifts, with a rate of 2x8h.
Another sign of good health, the share of trading in Goļot's activity has fallen while turnover is increasing, proof that industrial production is picking up again.
Future productivity work
For management, which managed to keep all employees during the recovery and has just hired, it is time to take a break on recruitment. It is now a question of exploiting the potential for productivity progress by working on organisation and automation.