We were interested in putting together a list of the new sails presented during the autumn shows. Thus we have listed the new yachts that will use the Cannes Yachting Festival (6 to 11 September 2016) and those that will be present at the Grand Pavois in La Rochelle (28 September to 3 October 2016).
We then ranked these new products in order of size. And weirdly - or not! - the large units (over 13.00 m) are all presented in Cannes. The smaller ones are planned for La Rochelle.
In the eyes of shipyards and visitors, Cannes remains a show marked Grande Plaisance, in the field of the motor boat but also that of the sailboat.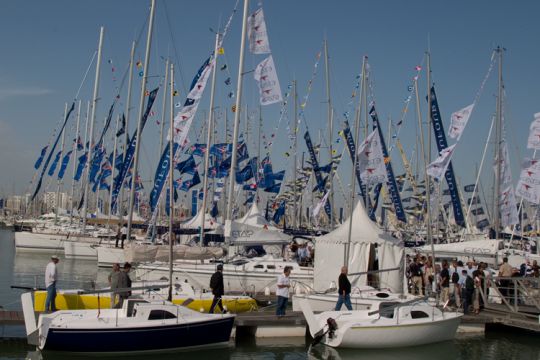 Another trend shows that the yards can no longer present boats in each of the 2 shows (even for the most important of them). This autumn 2016, only the Dehler 34 will be visible in Cannes and La Rochelle. It must be said that the boat was launched in July in order to undergo the first tests and trials before being presented in a proven version to the general public.
This finding clearly shows the positioning of these two shows and their customers. This orientation has been clearly identified over the years and shows once again that these exhibitions are not competitors but complementary.
List of new yachts for the Cannes and La Rochelle 2016 shows
| | | |
| --- | --- | --- |
| Length | Model | Lounge |
| 2,33 | Optipon | La Rochelle |
| 4,50 | IFly 15 | La Rochelle |
| 5,50 | Scow FR18 | La Rochelle |
| 5,50 | Aloes 18 | La Rochelle |
| 6,45 | XO Racer | La Rochelle |
| 7,92 | Easy To Fly | La Rochelle |
| 8,00 | Tröll 26 | La Rochelle |
| 8,20 | Code# | La Rochelle |
| 9,80 | Ofcet 32 | La Rochelle |
| 10,57 | RM 9.70 | La Rochelle |
| 10,70 | Dehler34 | La Rochelle and Cannes |
| 11,98 | Cordova 40 | La Rochelle |
| 12,46 | Django 12.70 | La Rochelle |
| 12,50 | X-4 | Cannes |
| 13,50 | JPK 45 Fast Cruiser | La Rochelle |
| 14,35 | Solaris 47 | Cannes |
| 14,98 | Sense 51 | Cannes |
| 15,38 | Jeanneau Yacht 51 | Cannes |
| 15,50 | Azuree 41 | Cannes |
| 16,30 | Dufour 56 Exclusive | Cannes |
| 16,45 | EOS 54C | La Rochelle |
| 17,28 | Jeanneau Yacht 58 | Cannes |
| 17,50 | Code 2 | Cannes |
| 17,50 | Big Sun 58 | Cannes |
| 17,70 | Wauquiez Pilot Saloon 58 | Cannes |
| 17,78 | Sense 57 | Cannes |
| 18,68 | Catana 62 | Cannes |
| 19,07 | Océanis Yacht 62 | Cannes |
| 20,50 | Sunreef Suprem 68 Sailing | Cannes |
| 21,00 | Hanse 675 | Cannes |
| 23,28 | Lagoon Seventy 7 | Cannes |