Beneficial diversification
Privilège is a historical player in the sailing catamaran market. Since the takeover of the brand in 2012, work has been carried out to update existing models and launch new yacht models. In order to increase activity, the brand has also decided to diversify towards motor units. This buoyant market should make it possible to continue to perpetuate the activity.
The Furio, a very (too?) luxurious model
Launched in 2013, the Furio is the first Marine Privilege foray into the power unit industry. Designed by Marc Lombard with interiors designed by Franck Darnet Design, the 19m catamaran is firmly positioned on the luxury market. This segment of the motoryacht is far from the Privilege culture and the company struggles to find its place there. Despite a few touches, no units have been sold to date.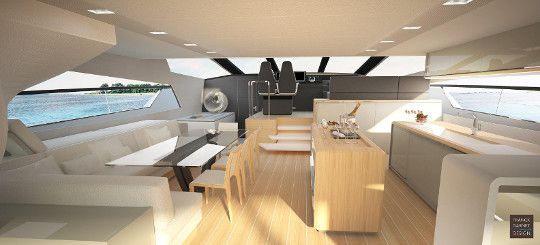 Euphoria, creating a bridge between sail and engine
Despite the mixed results of the first model, Privilège continues its strategy of diversification towards the engine. For this, the Vendée shipyard has decided on a more classic programme for Euphoria 5. The objective is to seduce Privilège"sailors" who wish to switch to the engine while keeping the spirit of a sailboat.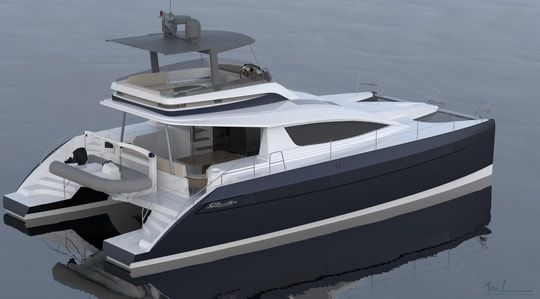 For that, the Euphoria takes again the mould of the Privilege series 5 with a modification of the back of the hull. A flybridge is added to make the most of the space. Nevertheless, potential customers can rely on the existing sailboat to imagine their future motor unit, often a crucial element in the purchase decision.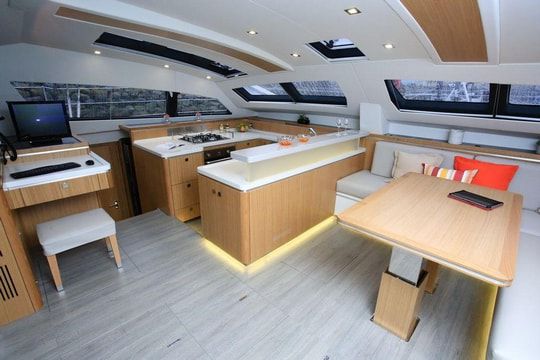 The concept has already attracted a first yachtsman whose catamaran is currently under construction.
Continue on the engine market
The Vendée brand intends to continue its efforts to become a recognized engine player and thus occupy the entire range of catamarans and open up to a new clientele. Euphoria 5 becomes the bridge between the sailboats and the Furio...