Modular boat washing stations
CarenEcolo's boat washing station is a combination of two elements :
A washing area made of hard rubber, able to withstand 40 tons of pressure to a square centimeter, with a water collecting fender all around.

A filtration unit with its pumps and accessories located in a trailer or container.
This simple wash station can be installed in any ports, on a slipway or as a refit on older installation.
The hard rubber mat, patented by CarenEcolo, can be fixed and then removed without any damage to the ground. « It can be fixed on a concrete slipway or on any other hard surface . There is no masonry work keeping the costs of installation cheaper than a concrete or asphalt wash station » explains Gaëtan Fouquet, founder and CEO of CarenEcolo. « We can also move the washing area or change its size over time ».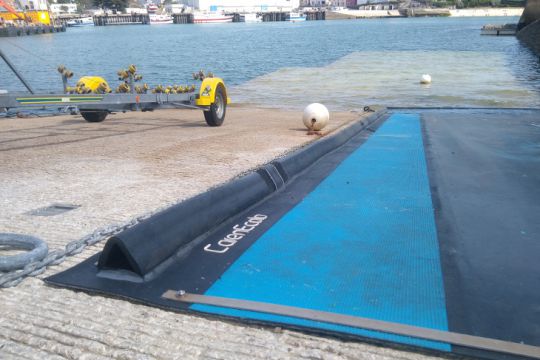 Setting up a wash station at a moderate price.
Because environmental rules and ocean's protection are getting a lot stricter, new regulations on antifouling use and treatment are coming up, CarenEcolo's solution makes a lot of sense economically. « It's a fast refit possibility on older installation meeting all the new requirements » says Gaëtan Fouquet.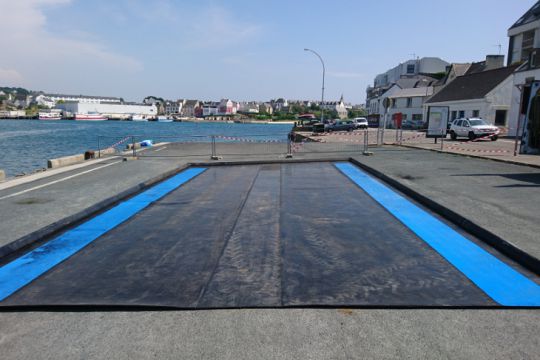 A strategic partnership with Axon
The hard rubber mats are made locally in Brittany, in Quimperlé. As for the filtration units, CarenEcolo has signed a exclusive distribution partenership with Swedish manufacturer AXON MILJÖTEKNIK. These new filters from Axon and their unique capacity to treat biocides allow CarenEcolo to position itself on the upgrading of older and out of date boat washing stations . « The system has high filtering capacity, we can offer filters for a wash flow of 1 m3 to 20 m3 an hour and up to 1000 boat washs a year. The total refit costs including pumps and filters is less than 50 000 € » points out Gaëtan Fouquet.