A training course to make boat sails
The vocational school of Roz Glas, in Quimperlé in Finistère, will open in September 2019 a complementary training course for multi-purpose sailboat workers. Accessible to holders of a Bac Pro Trades of fashion and clothing and available in Parcoursup, it combines theoretical training, such as computer-aided design or technical English, general culture related to rigging and sails and practice in the manufacture of the wardrobe of sailing boats. The 20 weeks at the high school are supplemented by 16 weeks in a sailmaker's shop.
An outlet for sewing specialists
"Our students of the professional high school of Roz Glas in the field of fashion and clothing make many internships in companies. Some of them have gone to sailmakers where the process is quite similar to that of clothing, from CAD to printing, including cutting, assembly, finishing or quality control. When we visited the sailmakers during the internship assessment visits, we noticed that there was a crying need for staff on the floor," explains Patrice Guérin, the establishment's director in charge of vocational training.
Versatile Master Sailmakers Needed by Businesses
The training programme was launched after a survey of some 50 Breton sailmakers. If the Ateliers de l'Enfer in Douarnenez, which are more oriented towards adults and traditional sailing, offer a first recruitment pool, they are not enough. Companies are still facing difficulties in hiring. "There are 2 profiles on the floors of the sailmakers: workers from the textile and sewing industries who are trained on the job to the specificities of sailing and others from the nautical industry who learn sewing on the floor. The positions are also very fixed. When an employee in drawing is absent, the one on the floor cannot replace her. However, the staff is very volatile. The idea is to develop versatility for better personnel management," observes Patrice Guérin.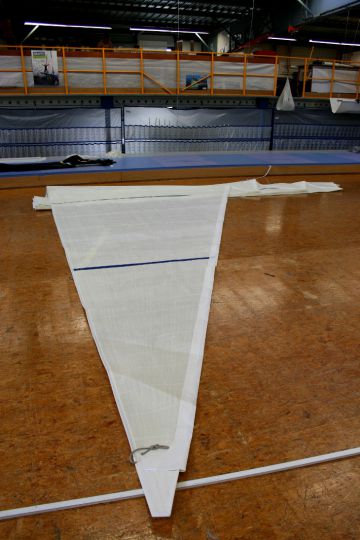 Partnerships have been established with sailmakers such as North Sails, All Purpose, Le Bihan Voiles and Sails Solution.
Open Doors
Interested students can find out more at the Roz Glas High School Open House on 8 and 9 March 2019.