Working differently in the boating industry
In spring 2018, Richard Demeule and Eric Lerendu launched Marine Mobile Diffusion, a commercial service provider for nautical equipment manufacturers. Many years of experience in the maritime sector have led the 2 partners to embark on the adventure. After having been a sailor in the French Navy, Richard Demeule worked as a base chief in river boating, then moved closer to the sea to work in the field of fishing accessories. He finally joined SEIMI, the equipment company for professional boats and pleasure craft, where he remained for 17 years and ended up as sales manager. It was there that he met Eric Lerendu, who worked under his direction, particularly with pleasure craft and rental fleets. He is also in charge of setting up a network in the overseas departments. Prior to that, Eric Lerendu worked for a Bavaria boat dealer. As the Alliance Marine group, of which SEIMI is a member, grows, the two colleagues want to return to small structures. "We have identified a different way of working," explains Richard Demeule. This is how Marine Mobile Diffusion was born.
An external commercial force
"Marine Mobile Diffusion offers yachting equipment manufacturers and wholesalers an additional or complementary sales force," says Richard Demeule. The aim is to offer companies that do not have a sales manager, or a team that is too small, one-off or long-term assignments to win customers in pleasure or professional shipyards, maritime or inland waterway, particularly in the original equipment sector.
Flexibility and efficiency
"We are more flexible and less expensive than an internal sales force," says the founder. "By processing live, we also reduce margin stacks, so that everyone can find their way around."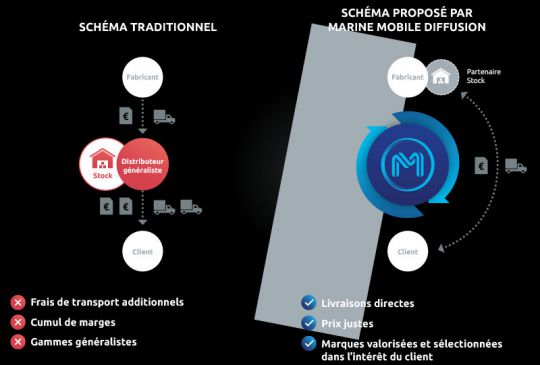 Federating small players
Focusing on French and European brands, Marine Mobile Diffusion wishes to ensure their promotion in France and in the French overseas departments and territories. "Our aim is to highlight small brands. We want to federate manufacturers, small structures left behind by large groups and transmit their values and images to shipyards. We are targeting 5 to 6 brands to start." Delta Equipement Marine, a specialist in marine electricity, should be the first company to trust Marine Mobile Diffusion.