Total takeover of Régis Guillemot Charter
Dream Yacht Charter acquired the charter company Régis Guillemot Charter from its founder and sole shareholder Régis Guillemot. Based in Le Marin, Martinique, the boat rental company was founded in 1992 by Marc Guillemot's cousin. Régis Guillemot, also an ocean racer, has participated in several Route du Rhum and Transat Jacques Vabre. The company's fleet consists of 34 catamarans.
A good image and some atypical boats
Régis Guillemot Charter had a good image with boaters and professionals. The company won the prize for the best boat rental company in the French overseas departments and territories in 2016, at the Nautic in Paris. Mainly composed of catamarans of the brands Fountaine Pajot and Lagoon, the fleet also includes 2 TS Catamarans built at Marsaudon Composites, intended for fast cruising. Oriented towards a French clientele, the yachts have less comfort equipment such as air conditioning than those of Dream Yacht Charter.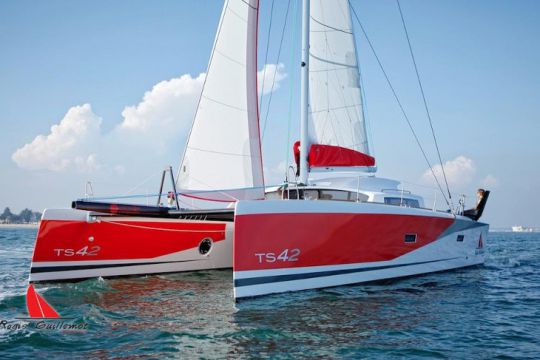 Boats that come at the right time
Even though the operation had already been planned for several months, the takeover comes at the right time, as Dream Yacht Charter is facing the consequences of hurricanes Irma and Maria, as explained by Loïc Bonnet, the company's CEO. "We did not buy Régis Guillemot Charter to deal with the effects of Cyclone Irma, but it allows us to respond better. 30 new boats, with still availability, have allowed us to redirect customers from the British Virgin Islands or St. Martin to Martinique."
3/4 of vessels in total loss
"We announced 60% of the boats in total loss on St. Martin and the British Virgin Islands 3 weeks ago. The figures are getting thinner today and we would rather be between 70 and 80% today in mid-October," says Loïc Bonnet. Nevertheless, Dream Yacht Charter was able to take measures and obtain 20 new boats in the area by the end of 2017, through orders and the reallocation of boats initially planned for other bases. The re-opening in the islands affected by Cyclone Irma is scheduled for mid-November.