Paris Marseille in the same boat
Paris' bid to host the 2024 Olympic Games is in the process of being selected. In the absence of a competitor, Los Angeles having chosen to participate only in 2028, the IOC should officially award the Olympic Games to France at its meeting in Lima on 13 September 2017.
As part of its project, Paris has partnered with Marseille for nautical disciplines. The sailing events will be held in the harbour of the Phocaean city. Thanks to existing facilities such as the Roucas Blanc nautical stadium and projects such as the stands planned on the corniche, the 2nd city of France will welcome Olympic sailing enthusiasts.
An opportunity for sailing clubs
As Christian Tommasini, president of the Yacht Club de Pointe Rouge, reminds us, hosting the Olympic Games in Marseille is the result of a long-term effort to breathe new life into sailing in Marseille. "This choice by the IOC was the right choice for us. Not everyone is aware of the importance of this decision. The YCPR has been working with the Marseille City Council for many years on the development of light sailing and in particular Olympic series, through the organisation of international competitions at the Roucas Blanc nautical stadium. After the games, the players will be able to benefit from the permanent infrastructures that will be built. We will provide technical support to the teams who will come from all over the world to discover the lake, with economic benefits for the whole territory. Finally, I do hope that as after a football world cup, all the little Marseilles kids play ball, we will see after the Olympics many young people come to sail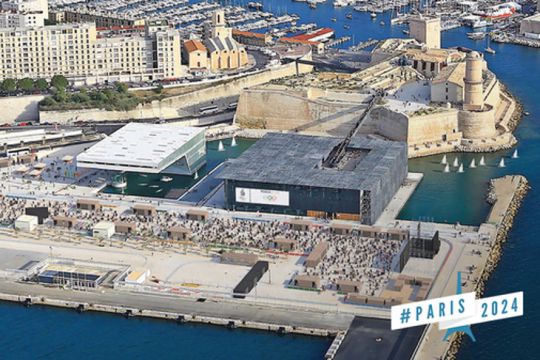 Renters want to get on board
The pleasure boat rental companies are also pleased, but worried that they will not be involved in the process. Yves Cuccuru, manager of Bleu Marine, a boat rental company in the Old Port of Marseille, explains the situation. "This is obviously very positive for the city's image and its international visibility. There will surely be tourism spinoffs after the Olympics. For the duration of the event, however, this will depend on the collaboration with the organization. If the structure calls on us for the technical aspect and the media, it will be positive. On the other hand, if, as with the Tour de France cycling event, the Old Port is closed for the entire month of the Olympic Games and we are prevented from working in the middle of summer, it will obviously be very complicated economically speaking
It remains 7 years so that all the actors of the nautical industry can find their interest in the Marseilles Olympics.