A young company
Rémi Campan, founder of Bonaventura Yachting, discovered synthetic teak in Quebec in 2006. Convinced by the principle, he worked 5 years in Canada, on this micro-market, preparing bridges in his basement and installing them in the summer. Back in France in 2011, he tried his luck by exhibiting at the Grand Pavois and obtained his first contract. He then secured the import and distribution contract with the Swedish synthetic teak manufacturer Flexiteek, and created his company Bonaventura Yachting, better known as Flexiteek Atlantique, based in Dompierre sur Mer.
In 5 years, the company grew rapidly and recruited to reach 10 employees. It goes from 100 000 € of turnover at the beginning to more than 1 M € in 2016.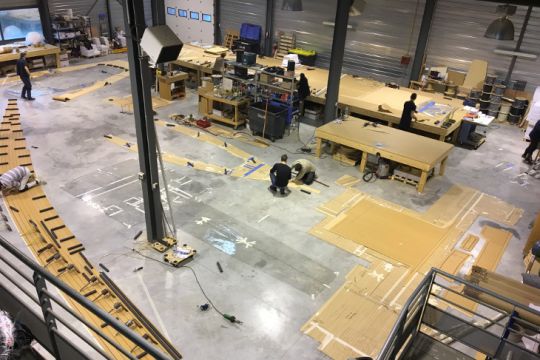 Bonaventura Yachting Workshop
Flexiteek seduces construction sites in 1st assembly
While Bonaventura Yachting has developed thanks to the refit market, it is now the original equipment market that is driving the company upwards. The OEM market for recreational yards accounts for 80% of turnover. Its deck coverings are particularly attractive for multihull yards such as Fountaine Pajot or Nautitech, but also smaller yards for sailboats such as the Boreal or the Bihan 6.50.
Bonaventura Yachting also works with distributors and dealers for whom it installs the deck at the end of production, before delivery to boaters. The company thus carries out 20 to 30% of its activity for international distributors. The works are carried out in France, before the boat leaves for Spain, Scandinavia or Italy.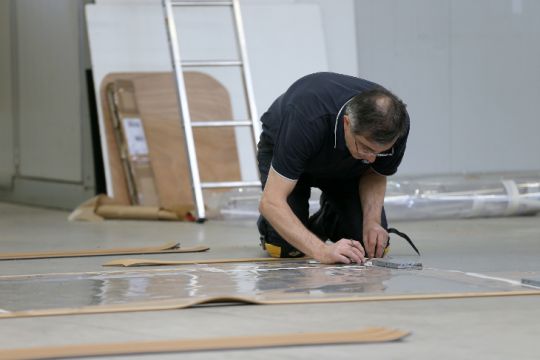 Flexiteek Bridge Preparation
A new, more efficient product
"The heat and weight of PVC bridges have long been a brake on their installation on new boats," explains Rémi Campan. "Flexiteek 2G has reduced the mass and thermal inertia of the product by 30% compared to the 1st generation. It weighs only 4.5 kg/m², which makes it competitive with natural teak. "
If the material remains a plastic, it is 100% recyclable and its maintenance does not require chemicals.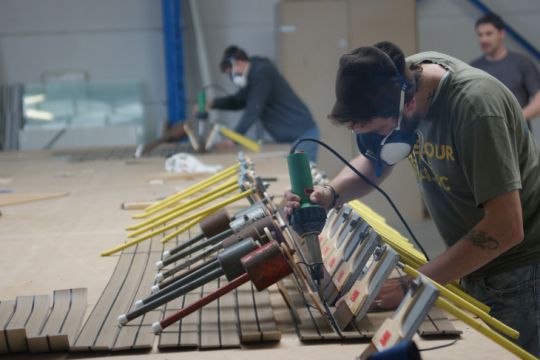 Flexiteek batten welding
New premises and recruitment
To cope with the explosion of the activity, Bonaventura Yachting will add to its 600 m² workshop, a 200 m² mezzanine. Rémi Campan is also looking to expand its team by 10 employees by recruiting 2 versatile operators for the manufacture and installation of Flexiteek bridges.