War reporters at the ocean
Ektacom is a digital video specialist with 6 employees. About ten years ago, it developed for TF1 an exclusive solution allowing live broadcasting of images via satellite or the telephone network. Freed from exclusivity, Ektacom tested its technology in yachting in 2015, covering the Europa Cup Laser in Brest. Images filmed from semi-rigid were broadcast live on land via a 4G antenna lent by Thales.
Since then, technical solutions by satellite have made it possible to approach ocean racing, with Spindrift, Gitana or Sodebo during his solo round the world sailing record.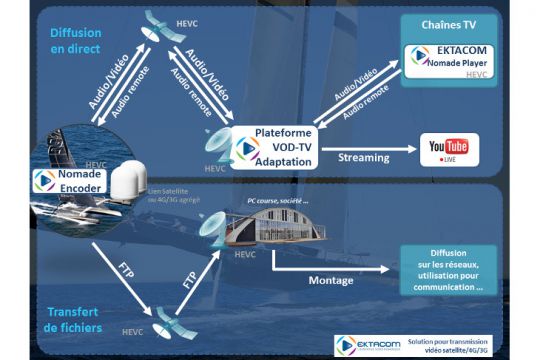 Robustness, quality and safety
Developed for use in conflict zones, the Ektacom Nomade solution is extremely robust.
The compression format, which constantly benefits from improvements developed in-house, allows a good image quality, limiting the data flow. The aggregation of several satellite antennas on board also improves bandwidth.
Data transmission to television antennas, hosted by Ektacom, is managed by the company. It also provides backup for offline use. Encryption is possible to further increase data security.
Tailor-made solutions
To date, all Ektacom installations have been custom developed. The price, which includes a basic investment and an annual license to cover hosting and system updates, is adjusted according to the projects. The simplest solutions are less than 10 000 €.
Towards new markets
Nicolas Pagenaud, the new sales manager, aims to develop the marine market. Increasing the offshore racing portfolio is a first step. Ektacom would also like to reach the luxury yachting market. The development of packages and a catalogue should see the light of day, to perhaps one day reach all boaters.