The Cousin rope factory designed and developed the textile blocker: the Constrictor. This involves using the properties of the splice to replace traditional mechanical blockers. Besides the fact that this type of blocker supports a very strong load, they are very appreciated by racing yachts for their lightness and the ease to drop them under load.
In parallel with this development, Ocean Data System is seeking to secure navigation. This is how this French company invented the Up-Side-Up, an electronic system that measures the forces on the sailboat as well as the movements of the boat to be able to intervene automatically when the thresholds are exceeded. At the critical moment, before the boat turns around, the system is able to shock a sheet, for example. Ocean Data System is currently installed on all racing multihulls. It is an ally for the safety of sailors when they sail alone.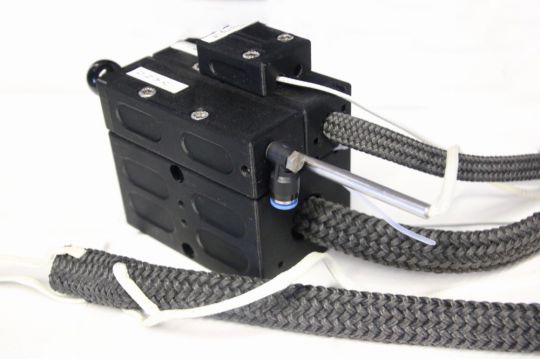 Finding a blocker that can be dropped easily, quickly and automatically is what the search is all about. Hence the idea of working with Cousin to launch an automatically releasable Constrictor. It was this product that could be seen under the coat during the METS equipment show.
The ECB (Enhanced Constrictor Base) is a Constrictor encapsulated in a composite box whose release system is connected to a pull tab that can be controlled pneumatically or electrically. The square shape of the system is voluntary to be able to embed several blockers on a piano.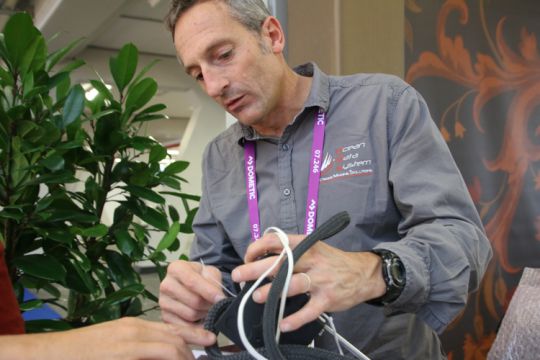 Christophe Lassegue presents his product
Certainly the ECB is not intended for all boaters. Few people need to drop a wire when the pressure is too high. But for cruising, the system interests large catamarans (over 60 feet) or fast yachts built individually.