Non-standard products
Little known to French boaters, Astra Yacht offers high-end navigation electronics solutions. Created in 2010 by specialists with a university and automotive background, the company develops complete systems for both cruising and regattas.
Astra Yacht's flagship products, the navigation systems come in different versions depending on the more or less sporting use. They allow the yachtsman or the professional skipper to constantly know the sailboat's performance in relation to its polar and thus optimise its settings. Interesting feature, it is possible to carry out the polarities on a statistical basis after some navigations, and not on theoretical values of the manufacturer.
Astra Yacht is also developing other tools, such as an anchor alarm to monitor the risk of skidding or a docking radar, similar to the reversing radars in cars.
Compatible with all brands
While Astra offers its own displays, the Astra Yacht multiplexer is compatible with all makes of sensors and displays. It also allows Wi-fi transmission to connected tablets and watches.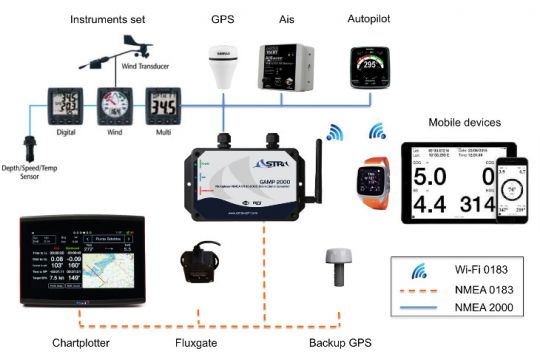 Installation diagram
Export objective
Astra Yacht has convinced many transalpine sailors, equipping for example the boats arriving 2 th and 3 th of Barcolana 2016. The new stage for the Italian company is now export. Already equipped with distributors in Spain, Norway and Sweden, Astra Yacht came to present its products at the Grand Pavois to convince French customers and distributors. Business to follow the French bodies of water...