Born in Mini
Ino-Rope was born from the meeting of two experienced minists, Thibault Reinhart and Julien Barnet. Shared in Concarneau, the two friends imagine in their garage a new textile pulley system, which will become the Ino-Block. To develop the product, Ino-Rope was founded in 2013 and hosted by the Roland Jourdain nursery, Kaïros.
Recognition through ocean racing
The mentalities of boating can be conservative and the idea of pulleys without metal axis has been difficult to get through. Offshore racing, rather less chilly, has finally been equipped. Ino-Rope products can now be found on many IMOCAs, such as Banque Populaire, PRB, Hugo Boss and Le Souffle du Nord.
The image of ocean racing then benefits all markets, including those outside the nautical world.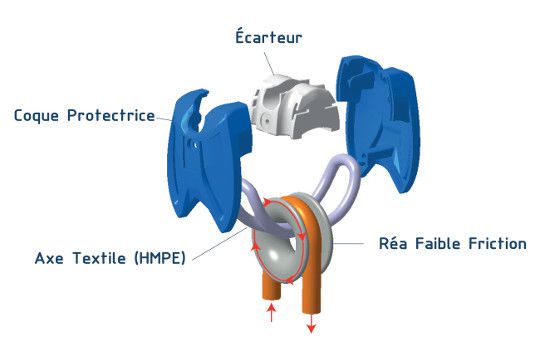 Ino-Block principle
Growth and diversification
In three years, the company has grown considerably, from a staff limited to the two founders to now 10 people.
While trading now accounts for 50% of the business, seamanship and pulleys provide a better margin for the company. Ino-Rope aims to increase its turnover from 120 000 € in 2015 to over 200 000 € in 2016
Part of the innovative pulleys, the activity has extended to seamanship and in-line deck hardware trading. For Thibault Reinhart,"You work well when you like what you do. The work must be adapted to the profile and expectations of the employees". So we could see new activities coming in, depending on the recruits.
If boating, at the origin of Ino-Rope, is the passion of its founders, the future of the company is also written in the industry, where projects are under discussion. Textiles are indeed booming.
Structuring and moving
Faced with the increase in activity, Ino-Rope is working to structure its activity to maintain a high level of quality. Having become too big for a nursery, she is looking for premises in the port of Concarneau. These will enable a more industrial organisation, in particular seamanship.
The reorganisation will also be carried out via the Internet, where the site will be redesigned to make the link between trading, seamanship and pulleys more understandable.
For Thibault Reinhart,"Better to be big in a small port than small in a big port". This is therefore what we hope for the Cornish company.