A precise day-charter program
Frédéric and Caroline have been at the helm of Boyard Croisière for several years. At the helm of a Catana 380, they offer day trips aboard the catamaran in the Charente hills and around the famous fort. But the sailboat was not designed for this purpose. " That's why we decided to find a new boat. The Catana was not designed to accommodate 20 passengers at all times. He is structurally tired and it was important not to damage our work tool. "explains Frederic.
But even if it means changing boats, managers have a clear idea of their specifications. The sailboat must be accessible to people with reduced mobility, as clean as possible from an environmental point of view and remain light to sail well.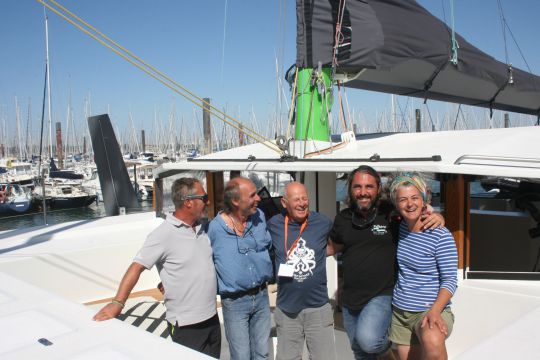 Build the boat to meet the program
After having done a tour of the rare shipyards building day-charter sailing boats, Frédéric did not find his happiness, staying within his budget. " We were looking for a boat that was above all a sailboat, and at an affordable price! "summarizes Frederic. He then contacted the Australian naval architect Schionning Design, a specialist in kit multihulls for amateur construction. Convinced by the project, he adapted one of his models to the day-charter. The Boyard Croisière team then receives the infused composite sandwich panels, ready to be assembled. After a winter of assembly, the catamaran was born. The 7.5 T multihull is equipped with two 7 kW generators and two 10 kW electric motors. Registered in NUC, it can accommodate 30 passengers and 4 crew members, in order to supervise groups of people requiring educators or specific support. It took a year of construction for 4 people to build A real human adventure for us "says Frederic, delighted.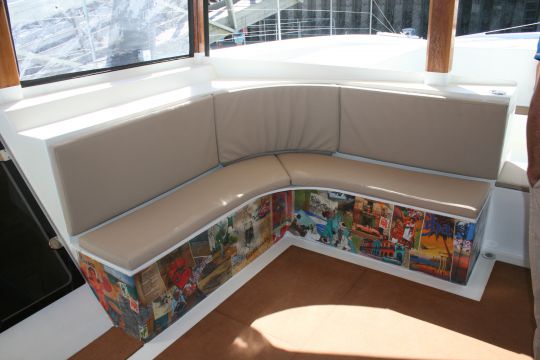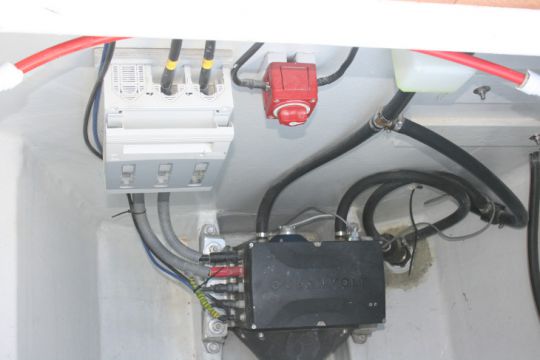 A good economic balance
Self-construction is not always so economical. However, it corresponds well to the situation of Frederic and Caroline. " Finished boat, it amounts to almost 600 keuros, whereas it would have cost 900 keuros in a construction site. As we do not sail in winter, the construction of the boat does not take time on the job. It was possible to find financing with the La Nef bank and regional support for innovative tourism, linked to accessibility and electric motors "explains Frederic.
By welcoming groups and people with reduced mobility, Boyard Croisière is opening up to a new clientele. " This allows the season to be extended before and after the full summer. We also go from 20 to 30 passengers. The profitability target is 5000 passengers per year. "
To a shipyard?
To build Boyard Croisière's boat, the partners created the Day 4 All shipyard. With the confidence of Schionning Design, they plan to distribute their boats in kit form in France and possibly build other boats.