Sébastien David, founder of Kerboat Services, the boat cleaning specialist, discusses with BoatIndustry its development and the services it provides to boating professionals and boaters.
Before founding Kerboat Services, he worked in IT project management. It was at the age of 25 that he discovered sailing. While he was unemployed, he started a company of robotic boat hull cleaners. But the case is complicated and finally Sébastien decides to change his mind... without abandoning his idea of washing!
He then thinks more of deck and interior cleaning: a promising market study pushes him to offer this cleaning service. He created his company for this purpose. " The good surprise was that I met my customers faster than I expected! There was a real demand... ", acknowledges, satisfied, Sébastien. As proof, he received, at the time he specified this, a telephone call from a shipyard manager, who had been approached before, who finally ordered washings from him, to relieve his own employees of this task.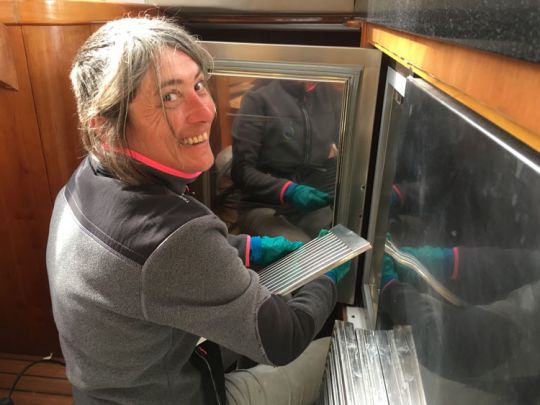 Anne-Françoise
She has always wanted to work in the nautical world. And got a job in a shipyard... before discovering that she was allergic to something in boats. So she had to leave her company and apply for Kerboat Service... successfully!
What difficulties do you encounter in your job?
The hardest thing for me to wash are textiles like the alcantara ceiling: when a stain doesn't leave, there is no alternative in terms of products. When a boat is full of things, it's not easy either: you have to move them to wash and in a confined space, as the inside of a boat is most of the time... in short! And then there are also the cleaning in boats leaving the yard. Normally, it goes pretty fast to process... except when they are not quite finished! In this case, the workers go through and through again, leaving traces and dirt; and we clean up and clean up after them... In short, we have the impression that it is endless.
What satisfaction do you get from it?
What I especially like is, at the end of the washing, to be able to see the result of my efforts: before/after... when they are very different, I like it! What's also nice is when boaters walk by the pontoon next to us and say "wow, it shines!". And then, when we also make a point with the customer at the end of the service and he is happy!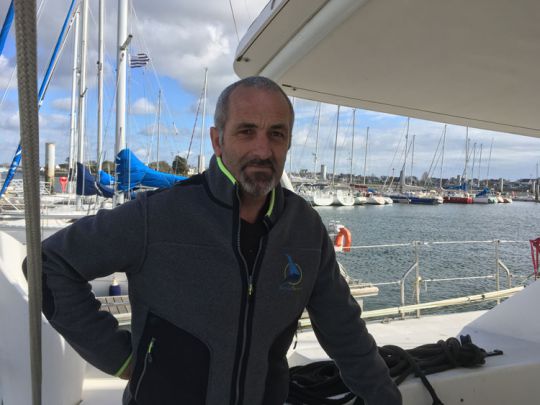 Victor Fernández López, Spain
He was a sailor, but felt that he had been through his trade. When he saw the job offer from Kerboat Services, he applied. And he has been working for the company ever since.
What can you expect in this business?
It is important to know that whatever the weather conditions, you may have to work. So, to remain effective, you have to know how to protect yourself, thanks to a combination of cold, wind, bad weather, etc. Of course, in winter, we prefer to be in charge of the interior of the boats! About the washing itself, it can be very varied: the dirty corners that are difficult to access are not easy. On the contrary, flat wooden surfaces wash very well, although care must be taken not to scratch them.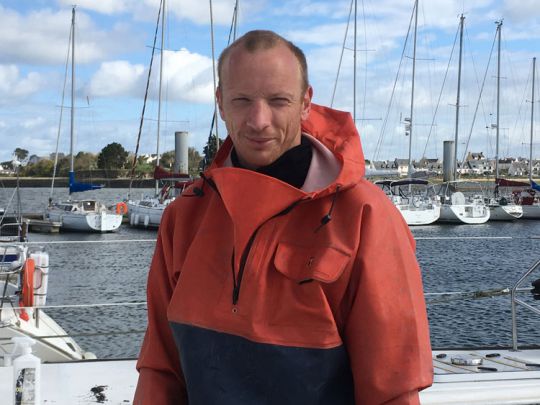 Arnaud and Mélanie have decided to put an end to this great journey
He has been working for Kerboat Services for five months. Before, he was already working professionally in the nautical sector: he worked in the environment for the fishing port of Lorient. He is therefore sensitive to the ecological spirit of Kerboat Services.
What do you prefer about your job?
In fact, as a boat enthusiast, I don't care about the outside or the inside and the weather. As long as we're well equipped. As a grown-up, I would be tempted to say that the inside of a boat, when it is very small, does not delight me: I have to slip into the trunks, the bilges... and in the evening to stretch and sheath.