Ocean Data System has developed a device designed for point load measurement through simple and fast implementation. TenSeaZy is intended for all master sailmakers or riggers who want to know the actual loads to be supported, whether on the running rigging or even on the frame. The interest of the product is its simplicity of installation which will be able to easily see it pass from one boat to the other.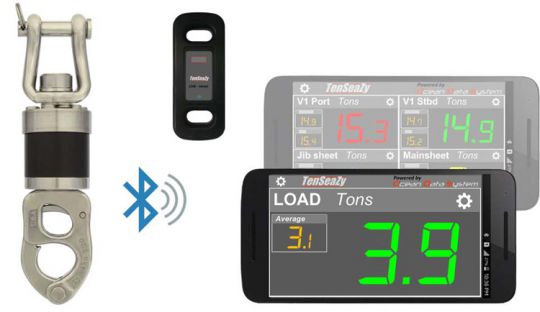 TenSeaZy First
A sensor that transmits via Bluetooth
The principle is simple: the sensor transmits continuously in Bluetooth. Via an Android application, the rigger reads this charge on his smartphone live. The interest lies in the simplicity of the system with the total absence of connection wires. The application can read up to 6 sensors simultaneously.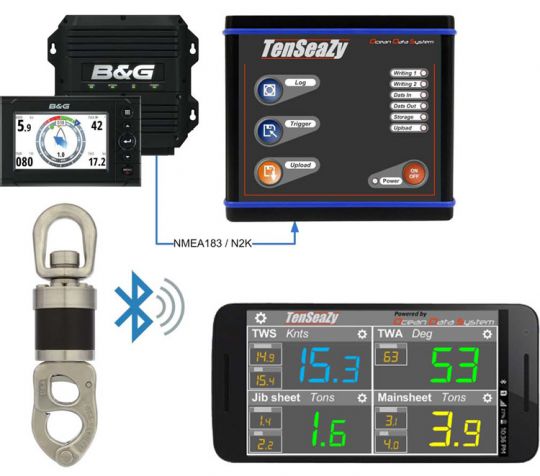 TenSeaZy Advanced with data logger
Two versions
TenSeaZy is available in 2 versions. The first, simplest one just includes the sensor and the Android application. The application displays the data live. It stores the maximum load and calculates the average.
In the Advanced version, a data logger is added, it will record the entire sequence to be able to analyze the results back. This autonomous box (battery operated) is also connected to the onboard navigation unit (in NMEA 2000) for wind and boat speed data acquisition. The recording of loads is synchronized with this data.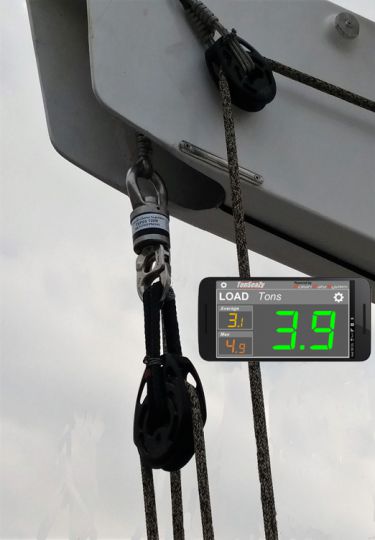 Application Android TenSeaZy : 900 € HT
Snap hook sensor: 1950 € HT
Data logger TenSeaZy : 1 650 € HT