Design and technology
The P400 Matrix helm seat is derived from the P400 series of seats from the Italian Besenzoni brand, based in Sarnico, also renowned for its telescopic gangways and tender launching cranes. It won the DAME Award 2017 in the category"Interior Equipment, Furniture, Material and Electrical Cabin Equipment", thanks to its design and ergonomics. "Sitting in the P400 Matrix helm seat leaves no doubt about the attention paid to the design of the seat and lumbar supports, as well as the adjustable headrests, armrests and footrests, making it ideal for long nights at sea on the bridge of a boat. The jury members also admired the aesthetics of the seat, making it a unanimous winner in its category," said the DAME Award jury statement.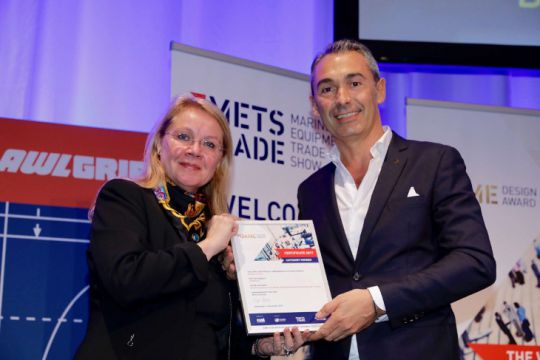 Presentation of the DAME Award for the P400 Matrix seat in Besenzoni
Vacust Technology
The P400 Matrix incorporates Vacust technology, developed by Alessandro Mazzucchelli. The seat volume adjusts to best fit the pilot's body and distribute pressure over a maximum surface area. Besenzoni announces 88% vibration absorption for optimum helmsman comfort.
Seat adjustment is done in seconds:
an inner tube is inflated to increase the density of the seat.
A pump sucks in air to create vacuum, causing the balls in the cushion to move and concentrate where the body pressure is exerted.
The procedure can be repeated thousands of times.