An evaluation mission
Guillaume Arnauld des Lions, deputy general delegate of the Fédération des Industries Nautiques, led a mission for the association to assess the consequences of cyclone Irma for the local yachting industry. Conducted in collaboration with METIMER, the structure federating the professionals of the nautical industry of Saint-Martin, it made it possible to draw up an initial assessment:
More than 1000 pleasure craft damaged
Approximately 500 vessels in wreckage condition
70% of the sector affected
10 M ? claimed from the State for the sector
The nautical sector achieved a turnover of 95 M € in 2016 and employed 400 full-time equivalent in 68 companies according to a study conducted by METIMER. Faced with the damage affecting an industry that is one of the tourist assets of the island of Saint-Martin, the Fédération des Industries Nautiques is calling for the establishment of a ?10 million credit line in the draft 2018 budget. "Management will surely revert to the interdepartmental delegate for reconstruction, Mr Philippe Gustin. We can imagine several forms of aid still to be discussed, such as interest-free loans or subsidies for the purchase of tools needed to restart the activity. This is a one-off emergency aid to guarantee the survival of businesses that might otherwise disappear in the coming months," explains Guillaume Arnauld of the Lions.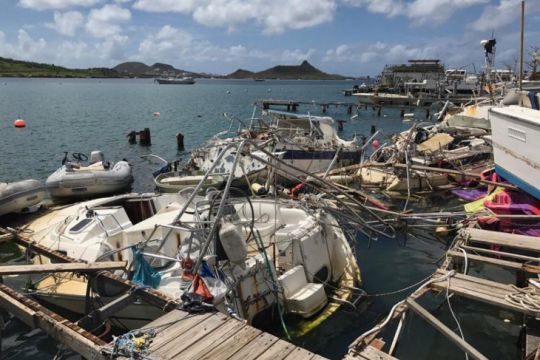 FIN Technical Support
Asked by BoatIndustry about the concrete actions of the FIN, its deputy delegate general specifies the measures implemented and mentions projects under study. "For the time being, FIN is making its legal and social resources available free of charge to all professionals in Sint Maarten, including non-members, in order to support the sector. We are thinking about financial solidarity actions in the nautical sector, but it is still a little early to announce concrete measures."
A real will to rebuild
To those who mention the delay in the reconstruction of the French part of Saint-Martin compared to the other affected areas, Guillaume Arnauld of the Lions retorts:"I was in the Dutch part of Saint-Martin, the situation was no better! He concluded with a positive note. "We were very well received, with over 80 professionals at our meeting, with an impressive willingness to rebuild."