The investor Next Stage and the shipyard Fountaine Pajot announced at the end of July 2017 the start of exclusive negotiations with the Dream Yacht Charter group for a majority stake. BoatIndustry contacted Loïc Bonnet, founder of Dream Yacht Charter to learn more about the purpose of these discussions and the future of the company. Here are some elements mentioned by the head of the company, while the closing of the operation is scheduled for October 2017.
Can you present Dream Yacht Charter in a few figures?
Loïc Bonnet : Dream Yacht Charter currently employs 350 people on 47 bases with over 850 boats. The 2016 turnover was 87 M €. It should exceed ?100 million in 2017.
What could the arrival of Next Stage and Fountaine Pajot change in the group's shareholding structure and strategy?
LB : As founder, I am today the main shareholder, part of the capital being divided between the managers of Dream Yacht Charter. With the arrival of Next Stage and Fountaine-Pajot, the latter should take the majority. However, no major change in strategy is planned. Next Stage and Fountaine-Pajot see in the rental of boats a promising sector and want to invest in the field through Dream Yacht Charter. These are primarily financial partners.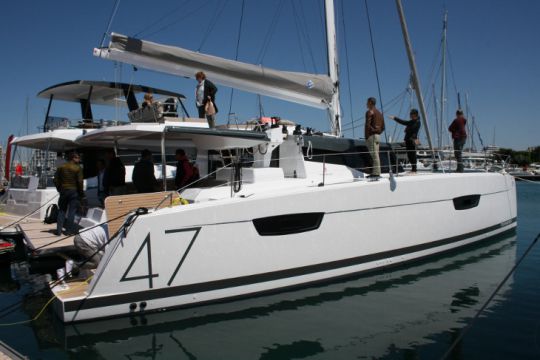 Fountaine-Pajot Catamaran
The two investors' press releases referred to the evolution of the yacht charter market, notably through collaborative practices and the Boat Club. Are there any projects in the field?
LB : Dream Yacht Charter already has a subsidiary in the rental of boats between private individuals since the acquisition of Boaterfly in 2017. We will continue to follow the market, without there being any specific project today.
With the arrival of Fountaine Pajot, some are asking themselves the question of exclusive relationships for the fleet of rental catamarans. What is the situation?
LB : We already have many Fountaine-Pajot catamarans. There is no exclusivity to come with the site.