A simple and adaptable system
Pollution from recreational craft fairing residues is a major problem. Although the water law now obliges the recovery of fairing water, this requires cleaning boats in specially designed areas, mainly located in large marinas. In order to prevent yachtsmen from continuing the wild refit, the port of Binic imagined in 2009 a simple system, adapted to the fleet of an average marina.
It is a steel platform 10.20 m long and 6.40 m wide, incorporating a tank for collecting fairing water. Placed on a hold, it is immersed at each tide. The boat comes ashore. Equipped with a badge collected from the captain's office, the owner of the boat activates the system once the tide is low, with sensors checking that the sea level is low enough. After an automatic cleaning of the tank, it proceeds to the fairing with a traditional high pressure system. Before the next tide, the system is cleaned with sea water pumped at the previous high tide. All polluted water is pumped via a flexible network into a technical room on the quay to be treated.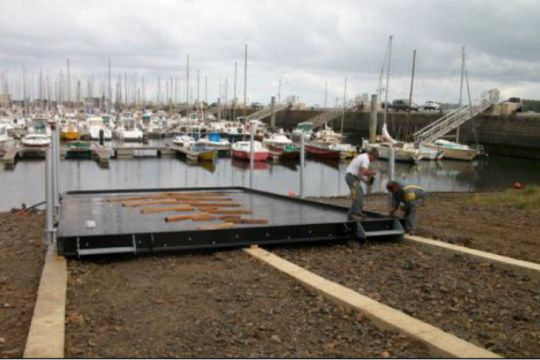 Cowling platform during installation
The Binic Harbour fairing system is adaptable to any hold and requires very little installation work.
Low prices and limited administrative constraints
Only installed, Binic's fairing area does not require installation authorization or public investigation.
Designed and patented by the port of Binic, the fairing platform cost 87 000 € HT. Part of the development and the automatism having been realized with the students of the high school Chaptal of St-Brieuc, the cost of the equipment, built entirely by professionals, is estimated at 150 000 € HT by Yann Barbier, the master of port of Binic. This limited price and ease of installation make it a solution that could appeal to small marinas, which small boats are still known to use in the wild.