The 1st trimaran in linen
Nicolas Malaquin, founder of FlaxComposites, is a former manager of Safilin, a flax mill in Nord-Pas de Calais. He was contacted in 2012 by the Lost in the Swell project team, notably associated with the Tricat shipyard and Ka´ros de Roland Jourdain. She wants to launch a flax fibre trimaran. In search of a 600 g/m▓ linen structural fabric, no manufacturer wanted to manufacture the product specifically for them for 200 m▓. Nicolas Malaquin agreed to Safilin and provided the necessary fabric. The boat, named Gwalaz, was launched in 2013.
Launch of FlaxComposites
Convinced of the relevance of flax composite, a plant in which 70% of production is French, Nicolas Malaquin left Safilin in 2014 to create his start-up dedicated to bio-materials. He joined the Innotex incubator, within the CETI in Tourcoing, which notably led to the emergence of Fendertex, the specialist in textile fenders. In May 2016, SAS FlaxComposites is officially created. Today, it employs a team of 3 people with the objective of becoming 5 employees within 3 years.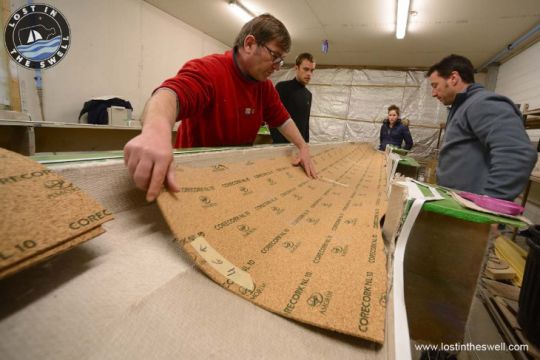 Construction of the Gwalaz
From linen fabric to cork-linen sandwich
FlaxComposites continues logically in the linen fabric sector. The company offers all types of fabric, structural or not, based on linen. The range is varied from twill to bi-biais, from 50g/m▓ to 500g/m▓. A part is available on order, which is easily possible, the surface quality of the linen making it possible to do without sizing and thus to increase the life of the products.
""https://media.boatindustry.fr/boatindustry/25073/composite-materiaux-bio-sources-lin-2.jpg"540"https://media.boatindustry.fr/boatindustry/25073/composite-materiaux-bio-sources-lin-3.jpg"360">
First orders
INNOLIN's first order was placed for a luxury boutique in the United States. However, boating should follow. Nicolas Malaquin indicates that advanced contacts are in progress with various boatyards and interior designers for new or refit boats. Case to follow...