Collaboration between two specialists
MacGlide adhesive antifouling was born from the meeting of two specialists. Mactac brings its expertise in self-adhesive solutions. Its adhesive films are used on high-speed trains or rockets. PPG, a supplier of paints for the maritime sector, puts its knowledge of antifoulings at the service of the project. Together, the two companies developed MacGlide, a silicone antifouling, applied in adhesive strips. Specific varnishes allow the sealing between the different portions.
Ader Nautic, new subsidiary of Déco Ader, French specialist in adhesive solutions is exclusive distributor of MacGlide in France. Discreetly present on the nautical market until now, Déco Ader was already installing decorations on dead works, outboard motor covers and deck anti-slip adhesives for several shipyards. With its new specialised subsidiary and the recruitment of Félix Gheerbrant, commercial manager from the nautical industry, the objective is to develop the activity very quickly, based on the new MacGlide.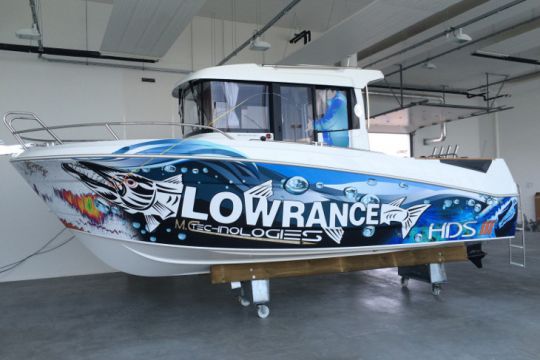 60 installers trained in 2017
After the product presentation at the Nautic 2016, many professionals showed interest in MacGlide. 10 dealers have already been appointed on the Atlantic coast, while new installers should join the network in the Mediterranean shortly. At least 60 dealers should be authorized to install MacGlide antifouling in 2017.
Ader Nautic has an installer trainer. One day, dedicated to installing the MacGlide on a typical boat, is sufficient for dealer training.
New boats as a priority
As the MacGlide application surface must be very clean, Ader Nautic mainly targets the new boat market. Because the product is sensitive to friction, sailboats that are transportable or regularly strand and beautify are without warranty. The MacGlide network should therefore consist mainly of dealers of habitable pleasure craft brands.
The prices, to compare with 5 years of use of a traditional antifouling, are estimated at approximately 3200 € (126 €/m²) for a sailboat Océanis 31 (9.50 m). It costs 142 €/m² for a motor boat with more complex shapes.
In order to limit competition, Ader Nautic wishes to restrict the number of installers from 1 to 3 per port. Once the product is adopted by boaters, there is no doubt that the seats will be expensive...