MagicEzy is a ready-to-use coating for repairing chips in gelcoat. It is applied directly at the tube outlet, without having to mix or add any hardener. This putty makes it possible to fill holes and chips quickly and without any particular skill.
This simple little tube avoids having to make to a professional (cost, immobilization..) for a small repair.
This product exists in 2 formulas: "9 Second Chip Fix" and "Hairline Fix".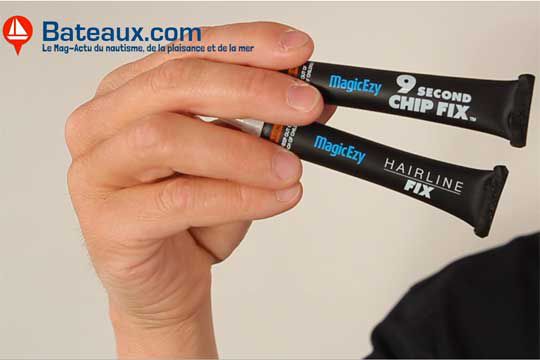 The"9 Second Chip Fix" is so called because its designer says that in 9 seconds you have repaired your shine. This is true for the installation procedure, it is less true for drying since it takes 24 hours for the product to set. The"9 Second Chip Fix" is a plaster loaded to accept to be laid in thickness. It is therefore suitable for all holes.
The"Hairline Fix" is designed to repair cracks or cracks in the gel coat. It is very liquid to penetrate well in the hole. The finish of this product is brighter than the previous one. So you can use both to repair. The first to plug the hole, the second for the shine.
The two products distributed in France by Seaview Progress are available at 25,00 € in 11 colours including 5 shades of white to ensure perfect compatibility with the original gel coat.