Where to see the boats at the Cannes Yachting Festival?
The boats are divided between the two ports - Old Port and Port Canto. There are about 500 boats in the first, which are new boats and about 50 in Canto which are brokerage boats (second hand). Canto presents rather large units, impressive and imposing boats. To pass from one to the other, maritime shuttles are proposed for a short 10 minutes trip in the blue waters of the Croisette Read our special report on the Cannes Yachting Festival.
Of the 550 boats on display, about 420 are afloat and 80 are ashore. These are mainly units of less than 10 m.
The Old Port
On the Old Port, the boats - sail and motor - are distributed around the seven spaces:
The Palais des Festivals Festival: located at the main entrance of the Festival, it includes the palace and its surroundings along the beach. In the palace, find shipyards, banks and high-end service activities for the nautical sector (architecture, design, yacht manager) and luxury (decorators, jewellers...). On exiting, enter the living room through the"space" Tender "and find the space" Toys "which borders the beach and conceals many nautical toys.
SuperYachts extension Find here the largest units of the show - motor yachts and sailboats from 25 to 55 m.
The Pier This space is dedicated to units from 15 to 40 m. A flood of international shipyards, luxury yachting essentials and the Tender Area. On land, engine manufacturers and services will be installed.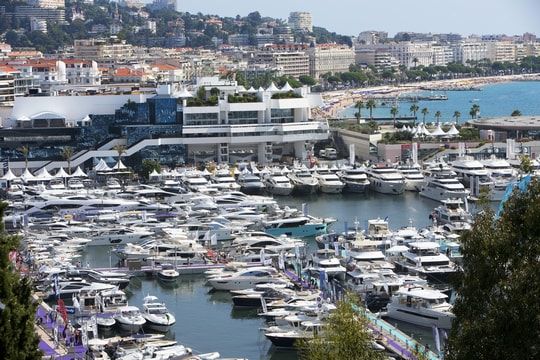 The Pantiero Here you will find units from 10 to 25 m. Top-of-the-range motor boats of smaller size will be on display: open, sport, fly and fishing-promenade. On land, you can discover the insurance and service companies, the village of the Equipment manufacturers, nautical accessories (fishing, marine optics...)
Catamarans Area Nearly 40 sailing and motor catamarans, from 12 to 35 m
Le Quai Saint-Pierre 12 to 25 m units afloat: large sailing ships, motor boats (tradition, open, fly...)
Le Quai Max Laubeuf On land, units less than 10 m will be exposed. Sailboats and motor boats will be on display. The quay will be dedicated to motorboating and you will also discover the Village RIB (pneumatic).
Port Pierre Canto
The Port Pierre Canto is home to large yachts, known as brokerage. That is, they are boats that do not leave the yard, but belong to owners. They are offered for rent or for sale. In Canto you will find about fifty units longer than 22 m.