Survival hatches: Reminder from the main multihull manufacturers
The 4 most important French and European catamaran builders, Lagoon, Fountaine-Pajot, Bali and Nautitech have published a lapidary press release informing about the recall of Goiot brand escape hatches on their boats and inviting the owners to get closer to the shipyards. BoatIndustry has contacted the French fittings manufacturer to find out more about this incident, which affects an essential safety element on board multihulls, the measures put in place and the consequences for the company.
Faulty adhesion on 2 models of escape hatches
" The recall campaign concerns 2 models of escape hatches among our range: the fixed T44 hatches with an aluminium frame and tempered glass and the opening Cristal 4942 hatches with a PMMA glass and an aluminium frame. Difficulties of adhesion that can lead to the loss of the glass have been noted. There are no risks with the other fixed models SurvivAL or Cristal round and sheet metal. The products concerned are those produced between August 2014 and December 2018 for the T44 and August 2014 and July 2018 for the Cristal "says Jacques Leblais, CEO of Goiot Systems.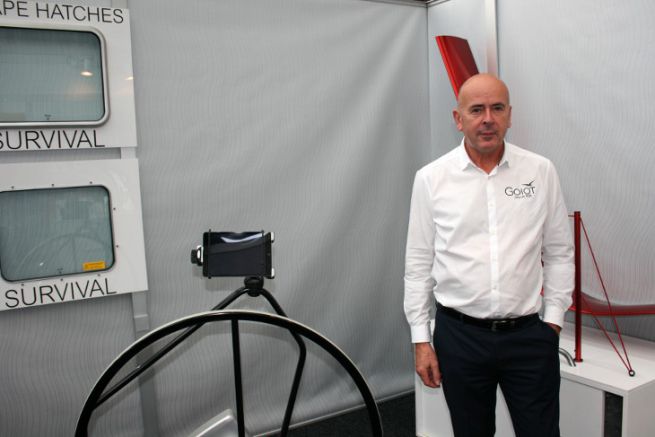 Technical solutions for new escape hatches
The first cases of isolated problems on the Goiot escape hatches were identified in early 2018. After observing others, the manufacturer modified its products by adding an additional mechanical fastener, in addition to glueing. " There was a problem with the quality of the adhesion joint from our supplier TREMCO. Laboratory tests are continuing and the cause is not yet known "explains Jacques Leblais. " For the recall campaign, we propose to the customer the replacement by a new opening. "
An industrial and commercial challenge for Goiot Systems
Goiot is the main supplier of escape hatches on the multihull market. This recall is therefore important for the French fitting company, both from an industrial and commercial point of view, in a dynamic catamaran market. " The first replacement deliveries have started. This represents several months of production. The number is counted in thousands "says Jacques Leblais. " We have been working transparently with the client from the very beginning. It is important to maintain this trust, which takes years to build. That is why we go beyond the 2-year guarantee on these products and go back to the date we took over the Goiot company in liquidation in 2014. "