Modular pontoons for all situations
The applications of Marinefloor modular pontoons are manifold. From a simple temporary pedestrian dock to a 2200 m² floating ice rink, the French manufacturer meets a variety of requirements. "We work mainly for the port, river, construction and public works and events sectors. With our cubes, we can, for example, in ports, make temporary pontoons open to the public for the stopover of large boats such as the Hermione or ocean liners, for ocean racing starts, but also close basins during boat shows afloat to increase the number of places and allow more pathways for visits, or create opening gangways. Usage can also change over time, according to the client's needs" illustrates Nicolas.
"With our boat cradles (also known as boat bases or floating cradles), we also offer a dry storage solution for semi-rigid or jet boats. Also scalable, this solution allows you to have a boat always clean and ready to go. By assembling them, we can create bases, as we do for the SNSM with dedicated coloured cubes. They are customizable!" completes the manager.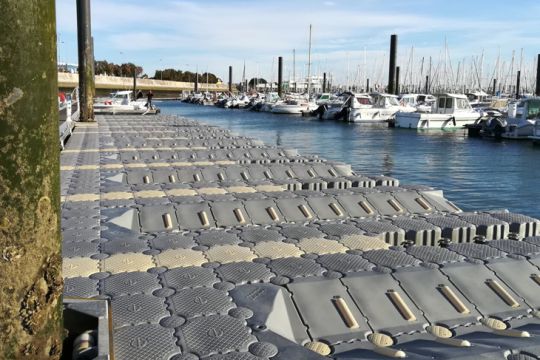 Floating cubes and boat bases
The Marinefloor solution is based on two basic elements:
The cubes have a buoyancy of 360 kg/m² for a weight of 26 kg/m². They are usually delivered pre-assembled, to simplify logistics. They allow the creation of suitable floating surfaces,
stable, rigid, temporarily or permanently.
Boat bases can accommodate V-shaped hulls with outboard motors or saildrive up to 5 T. They dispense with fairing and facilitate boarding, protect the boat while enhancing it.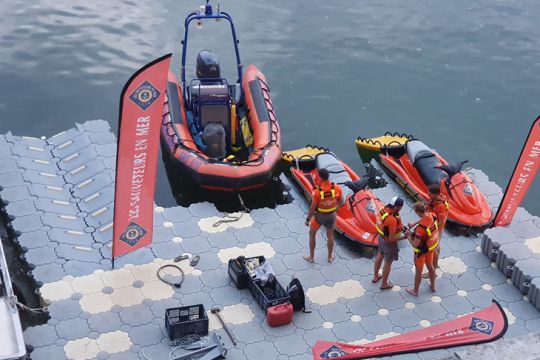 Tailor-made service and quality
Marinefloor adapts its services to the needs of its customers. "We're selling a service. We carry out the calculations, dimensioning, installation, anchoring / mooring, securing and installation of accessories such as ladders, railings ..." says Nicolas.
The structures are available for rent or for sale. Installation training is given to owners, while Marinefloor or its approved partners provide installation training during the rental period. The products, manufactured in France for a controlled quality, are guaranteed 10 years.