Quick start for Avel Robotics
Avel Robotics is the new name of the company since the end of 2018. It was previously called Absolute Composites, in reference to Absolute Dreamer, Jean-Pierre Dick's offshore racing team and manufacturer of the ETF 26s, in which Luc Talbourdet was the skipper's loyal accomplice. The company, completely independent, has been renamed to avoid confusion. Entirely dedicated to the automated manufacture of composite parts, the start-up has had a rapid start-up and already employs 8 people. His draping robot is running at full capacity.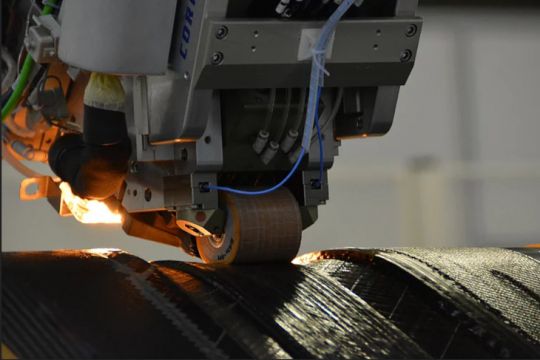 Head of the draping robot
A possible technical and economic balance in the nautical sector
The investment in a high-tech robot for composite can surprise at first sight in the boating industry. However, Luc Talbourdet confirms its relevance. "Yes, there is room for a robot in the boating world. Today, foil is the product with the most added value. There is also an interest in rudders where the robot allows to reach a very thin profile. I am convinced that these parts are becoming more and more strategic and larger, which makes the cost of the robot acceptable. In addition, it allows draping planes that are impossible to do by hand with good quality. We did a comparison on 8 samples by hand and robot. The dispersion rate is enormous."
The founder also sees in boating a favourable culture. "Interest is the ability to make decisions and accept risk in relation to other industries."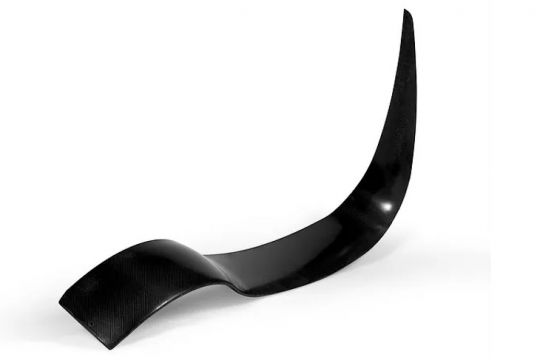 Foil made by Avel Robotics
Ambitious objectives
Avel Robotics will continue to grow. "We are currently 8 and the objective is to be 12 by the end of the year, with a targeted turnover of ?1 million for the 1st year. We already have orders and make more than a dozen quotes. The robot is used full time over one day, the next step will be to move to 2/8, then to 3/8. We have visibility at 6 months, which doesn't worry me. With offshore racing and Absolute Dreamer, I learned to take risks and manage investments that exceeded revenues. "explains Luc Talbourdet.
Technically and commercially, the company is also accelerating. "Today, the main focus is on quality, but the objective is to improve production times by 20% in 2 years. In terms of market, foils will become more common and develop on the top of the range as standard in the nautical industry. In the long term, we will also look for markets for renewable marine energies, aeronautics and space. We bring the agility of an SME with the tools of a large structure."