Carole Biarnes heads the Lorient branch. She has been working for Teem for 14 years. Her job consists of supervising the technicians' activities, organizing intervention schedules and managing product supplies with suppliers.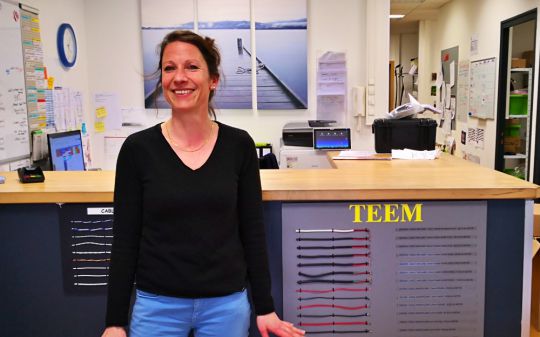 Carole, what is Teem's history?
In 2001, François Girard and Christian Bernard founded TEEM (Technique Électronique Électricité Marine), a company specialising in marine electronics and electricity.
The historical agency is located in Pordic, quickly the founders were overwhelmed and hired collaborators. It is in 2010 that we open the Lorient branch.
Today, Teem is a team of 16 people spread over the two agencies.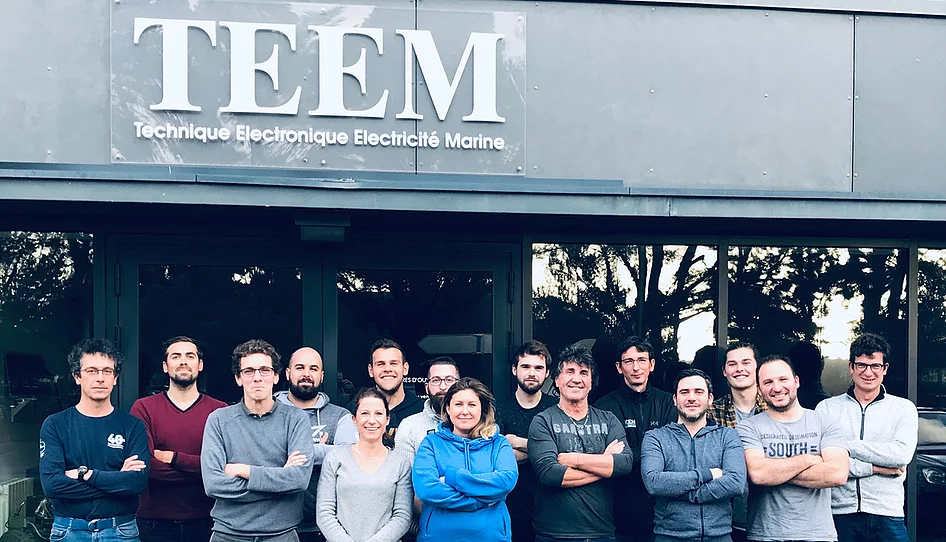 What is your job?
The niche is pointed: the equipment of racing yachts and large pleasure boats. Teem is a specialist in electricity, electronics and in particular drivers and their peripherals.
We install new boats, replace equipment and carry out repairs.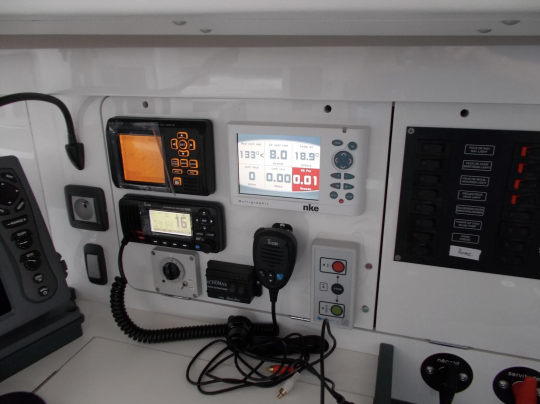 Why did you open an agency in Lorient?
We noticed that every day there was at least one team on the move in South Brittany, especially in Lorient. François Girard had a fine nose when he bet that Lorient would experience great economic development around sailing, particularly offshore racing.
The two agencies are developing in parallel and today there are 8 full-time technicians in Lorient.
Who are Teem's customers?
We can say that what connects our customers is the search for reliability.
There are shipyards that ask us for original equipment for specific projects (Boreal, Pogo, JPK...), we have many offshore racing customers (Transquadra, Class 6.50, Figaro, Class40, 60' Open...), but also customers who are keen on big cruises.
We also take care of the Figaro3. Indeed, from the very beginning of the new Figaro monotype, we had set up a trio of electronic specialists for offshore racing: Teem (installation), NKE (sensor and drivers), Icom (VHF and AIS).
Before the start of the races, we are on the pontoons to ensure maintenance and possible repairs.
What are Teem's strengths compared to the competition?
I would say the quality of the teams' work. Competent technicians undergoing continuous training. Many of the team members sail, either in racing, regattas or pleasure craft
I would add customer service and we treat all our customers with the same interest whether they are runners or boaters.
And finally a kind of Teem signature, each installation has a typical and recognizable assembly synoptic. We provide our customers with an electrical and electronic diagram and each cable is identified as an input output.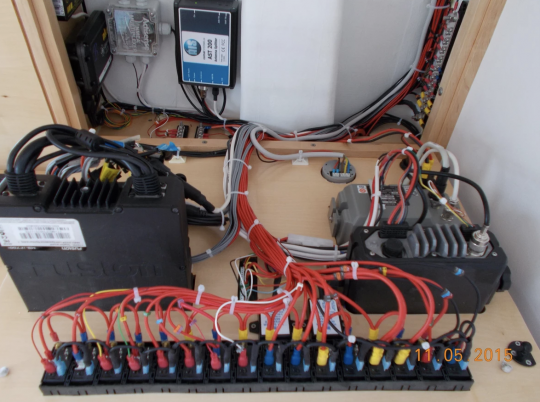 How do you choose equipment from suppliers?
We select suppliers and products that are stable over time. We avoid offering too many brands in order to be specialists in those we consider the best.
We exchange a lot with our suppliers' ECGs in order to get to know their products at your fingertips. Today, we distribute and install brands such as NKE, ICOM, FURUNO, KODEN, VICTRON, MAXSEA, ADRENA, WATT & SEA, FISHER PANDA..
What are Teem's other areas of activity?
Our work is based on electrical networks, sensors (anemometer, speedometer, compass...) and pilots (intelligence and power unit), we also offer control of energy production and storage. We install Wattand sea hydrogenerators, wind turbines and generators.
Concerning embedded computing and satellite communications, we work closely with Rom Arrangé, who is also based in Lorient, close to the offshore racing teams.
We also offer training courses for runners (electricity, electronics and IT) in response to the demand from the various offshore racing centres.