A permanent magnet gearbox for marine engines
The young start-up Radfields, founded in July 2018 by Rad Iliuta, develops innovative transmission systems for marine engines. It is based on the principle already known of permanent magnets, used on commercial ships or large vehicles, but too expensive until now for pleasure craft. Unlike a conventional gear, the pinions are not in contact, but an electromagnetic field prevents them from being brought closer together. When a crown moves, it is this repulsion that causes the second to rotate without them touching each other.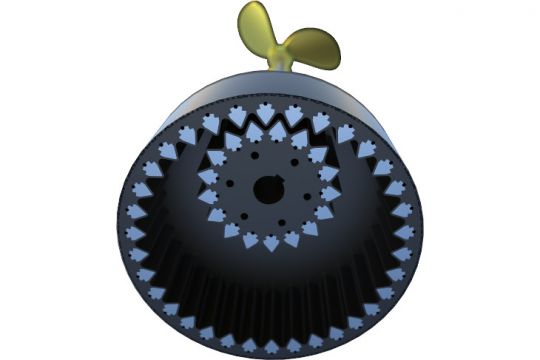 Less vibration and more performance on the boat
In the absence of contact, magnetic transmission eliminates friction, noise and vibration and the risk of induced resonance phenomena. This improves comfort on board the boat.
The disappearance of mechanical losses increases the efficiency of the engine and consequently the boat's performance.
Easy installation and maintenance
More tolerant in terms of alignment than a mechanical system, the magnetic reducer offers a significant time saving for the shipyard during installation. It no longer requires technical know-how that is sometimes difficult to find. "The operation can be done with the eye," says Rad Iliuta.
In addition, the absence of mechanical wear greatly increases the service life of the transmission. The manufacturer assures that the magnets have a lifetime of 150 years.
In the event of a propeller impact, the magnetic field absorbs the force, eliminating the risk of damage to the engine.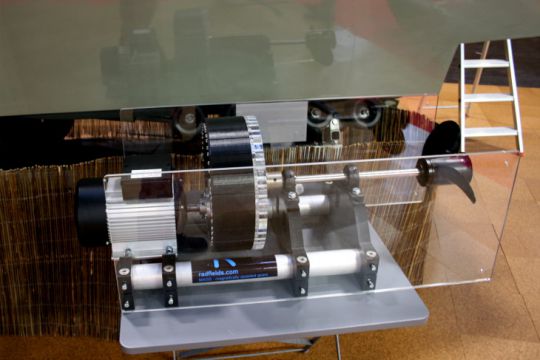 Propulsion unit exhibited at the Nautic 2018
An opportunity for electric and hybrid boats
"Our goal is to facilitate the transition to electric boats, thanks to a better propulsion efficiency allowing more autonomy," explains Rad Iliuta. While electric pleasure boats often do not require a transmission, Radfields' solution allows them to benefit from it without losing comfort. They can thus reduce the rotational speed and increase the propeller diameter for better hydrodynamic efficiency. The elimination of mechanical losses related to the transmission also increases the boat's autonomy.
The transmission ring can also be equipped with coils for use in hydrogenation. It can also accommodate several motors, electric or thermal, for the same shaft line. Radfiels' product thus makes it easy to create a parallel hybrid propulsion system or an electric system with several low-power engines to optimize the cost and use of engines according to the type of navigation, in port or at sea.
Imminent commercialization
The Radfields transmission was on display at the Nautic 2018 on the electric boat of the Swedish shipyard Xshore. The manufacturer announces serial marketing from March 2019.