Test antifouling solutions for 2 years
Between 2016 and 2018, Finistère 360 launched a test campaign to compare the many devices used to combat fouling on boat hulls. In partnership with the Iroise Marine Natural Park and the French Biodiversity Agency, the aim of the study was to better understand the effectiveness of the various antifouling techniques on the market and their impact on the environment, but also their acceptability to boaters. Antifouling paints for pleasure boating represent about 75 T per year in Finistère and 3000 T in Europe.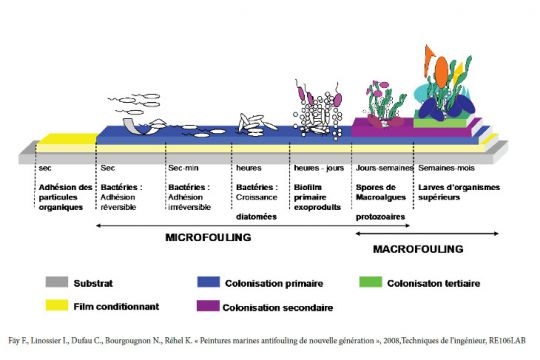 A rigorous scientific protocol
The operation was carried out in collaboration with the University of South Brittany and Labocea, a laboratory specialising in water quality. Static samples were immersed at the sites of Le Conquet, Morgat, Douarnenez and Lorient Kernevel. Their evolution was compared to that of a test plate with a bare coating, without treatment. Boaters and boating professionals, volunteers, then used these solutions for their boats for 2 seasons. Laboratory tests were also conducted to measure the ecotoxicity of silicone paints and films by simulating leaching navigation (rotation of a cylinder in water to represent the friction of the moving boat). The released substances were then measured and tested on fish larvae and crustaceans.
Results to be completed
The Finistère 360 study on antifouling focused on the following solutions:
Copper painting
Silicone paint
Silicone adhesives
Biocidal paint based on biodegradable polymers
Tarpaulin
Manual washing
Ultrasounds
It is difficult to find an optimal solution for the test results. If silicone seems to have a good efficiency/pollution ratio, it also has its disadvantages, in particular the difficulty of installation, which generally requires a professional. Seawax beeswax paint, which was not effective at the end of the first year, was abandoned, while ultrasound was not very effective on plastic hulls, says a Marine Park manager in the video summarizing the operation.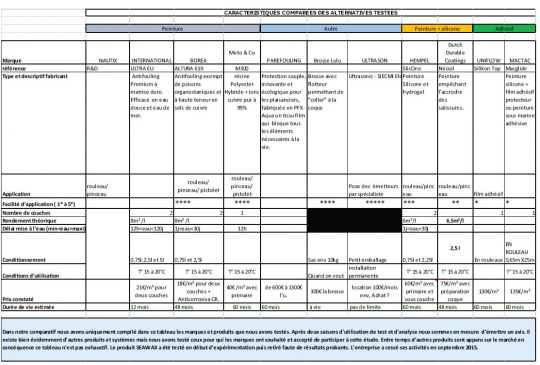 "Above all, we have noted that there is no harmless system," explains Pascal Bénard, in charge of the project for Finistère 360. "There is a 4-variable equation, efficiency, practicality, toxicity and price, which is now insoluble and many solutions proposed by manufacturers according to their uses. "
An awareness-raising tool
If Finistère 360 did not intend to come out with a single solution to offer, the agency now has serious communication tools to change people's mindset. "We will propose sheets for each method and raise awareness among boaters so that they find the right model for their use, but also that they pay attention to their health. It will also be a tool to raise awareness among ports and for them to adapt their offer, such as shore squares or cleaning machines. " explains Pascal Bénard.