Tailor-made travelifts
At Boatlift, there is no model of an off-the-shelf launching gantry. All travelifts are developed according to the customer's specific specifications, whether it is a marina or a shipyard specialising in motor yachts or sailboats. The smallest model built has a capacity of 25 T, while the largest delivered reaches 500 T and projects exceeding 1000 T of capacity are under study. This operating mode offers great flexibility to meet all requirements in depth and not just through a few options.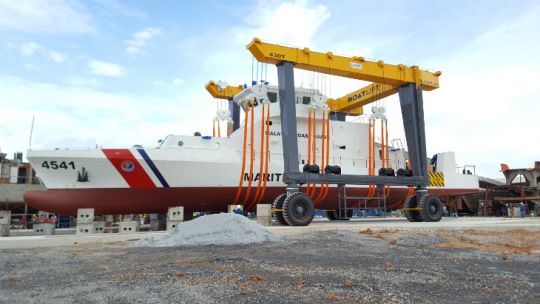 Mastery of the design of launching gates
Boatlift was created in 2006 by the Cravanzola & Veglio group for a specific project, before continuing its activity in boat handling in response to market interest. The specialist in automation and the development of special machines for industry with customers such as Ferrero or NestlÚ, brings its technical know-how to the world of boating and ports. A team of 7 engineers designs travelifts to best meet operational needs. "We have brought our know-how in automation and programming to take the travelift market one step further. "explains Matteo Scarafiotti, sales manager at Boatlift.
Internalized production process
All the elements of the launching gates are produced directly by Boatlift. "All steelwork, cabling and hydraulic work, as well as assembly, is carried out at our premises in Diano D'Alba, before assembly by the Boatlift teams at the customer's premises. "insists Matteo Scarafiotti. This control of the complete process guarantees the quality of the product.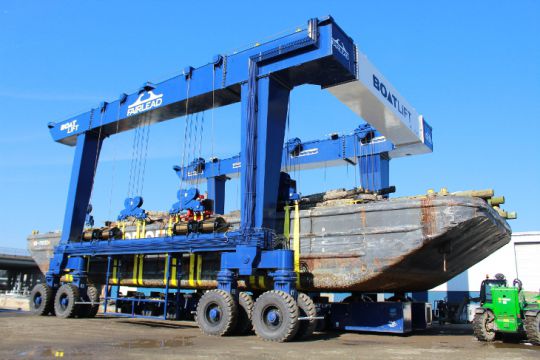 Connected gantries for better customer service
All travelifts delivered by Boatlift are equipped with a router. The internet connection of the site or port then allows the manufacturer's teams to connect to the machine for assistance operations. "Thanks to this, we can solve 80% of operational failures remotely and provide almost instant assistance. When it is still necessary to travel, remote diagnosis allows staff to be sent directly with the right spare parts for maintenance. "says Matteo Scarafiotti.