Less time and more security
The French specialist in shore storage and ship handling equipment Nautipark presented the Interteck holds at the METS. These blocks are made of flexible material, specially developed for the product. These wedges replace the pieces of wood traditionally used for wedging boats on trestles. When the boat comes to rest on the Interteck hold, it deforms to fit the shape of the hull. It recovers its initial volume per shape memory when it is no longer loaded.
The structure of the boat is better respected, thanks to the larger contact surface that distributes the forces. It is easily possible to multiply the supports, the Interteck wedges automatically following the shape of the boat.
Not requiring height adjustment through multiple shims overlapping as in the traditional method, the use of Interteck limits the time spent by the operator under the boat in handling, improving its safety and productivity.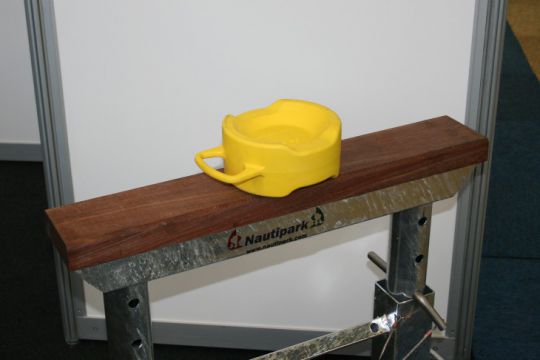 Interteck wedge on a Nautipark trestle
Yachtyards seduced
"The idea was born from comments made by operators during a handling and chock training we did at Monaco Marine. We thought of a solution on our side, testing different materials up to the one we use now. We then offered Monaco Marine to try the product. They were thus able to validate the product on motor yachts of various sizes. The first tests of the Interteck holds began at the beginning of 2017 in several of our customer sites. Today, the majority wanted to keep them and bought them. So we start marketing today at the METS," explains Vincent Harnois, sales manager at Nautipark.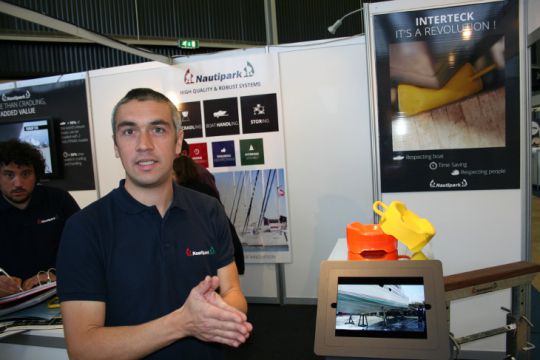 Vincent Harnois, Nautipark sales manager
2 models
Interteck shims are available for loads from 1.5T to 15T. A colour code makes it easy to distinguish the CMU from the shims. The 1.5T to 5T model is sold for 50 € and the 5T to 15T model for 100 €.