The fruit of a dismasting
After his dismasting in the 2000 Vendée Globe, skipper Yves Parlier imagines towing his yacht with a kite wing. With this idea in mind, he launched the Beyond The Sea project, supported by his company Océa, created in 1992 for its various nautical innovation projects. In parallel with Beyond The Sea applications on large ships, Libertykite is the version intended for pleasure boats. Supported by various schools and research laboratories, Océa is testing and developing several wing prototypes to define the two 10 m² and 20 m² Libertykite sails.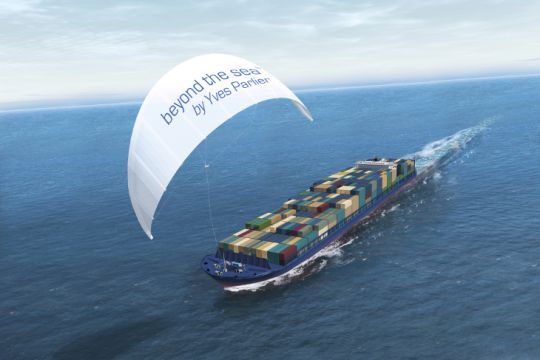 A kite wing adaptable to sailboats and motorboats
The Libertykite, designed by Yves Parlier, was developed by Christophe Roussel and Richard Leloup to meet 4 main constraints :
To be sent, picked up and manoeuvred by a person alone on his boat
Be self-stable, without operator action
Easily adaptable to any type of boat
Sailing from crosswind to downwind for all boats and upwind for those with daggerboards
Libertykite applications range from emergency rigging on a dismasted sailboat or a broken motorboat, to auxiliary propulsion to save fuel. It fits on the boat's mooring cleats.
Shy start
Once in commercial phase, Libertykite starts slowly. "540" explains Richard Leloup, Océa engineer. "360"https://media.boatindustry.fr/boatindustry/26882/kite-yves-parlier-beyond-the-sea-3.jpg"https://media.boatindustry.fr/boatindustry/26882/kite-yves-parlier-beyond-the-sea-2.jpg"We have a lot of demand for bigger wings, either to go faster, or to install on bigger boats. A new 40 m² wing should see the light of day, but even if we want to develop in yachting, we have other projects on large ships. We have to manage priorities in our small team. We are also working to enable the kite to be used in performance mode, thanks to new implementation techniques and new equipment."
If the Libertykite exists, it still needs time and adaptations to flower on our pleasure boats.