A pioneering kite school
Fil d'Air Kitesurfing School was founded in 1997 by Eric Pelaprat in Mèze, Hérault. A pioneer in kitesurfing at the time, the school has always been interested in the possible development of kitesurf wing powered light sailing boats. A few years ago, it developed prototypes of modified kite towed beach catamarans designed to accommodate disabled people. Faced with a mixed public return, the project had been abandoned. Discovering the Kitetender, a successful kite boat project, Fil d'Air decided to propose it to its catalogue.
A fun and versatile boat
The monohull allows better manoeuvrability than the previous catamarans. Designed for double-handed sailing, with a helmsman and a wing trimmer, the boat can accommodate up to 3 people. Accelerations can be high, the boat going from 5 to 20 knots in 2 seconds. All wings can adapt. The choice of the surface makes it possible to define the sportiness of navigation.
A solution for the future
For Eric Pelaprat, the Kitetender and the kite propulsion,"It's the future, but we have to see when! Today, the Kitetender is the first successful model, so it is the first step for kite boats. It can be compared to the Optimist for sailing.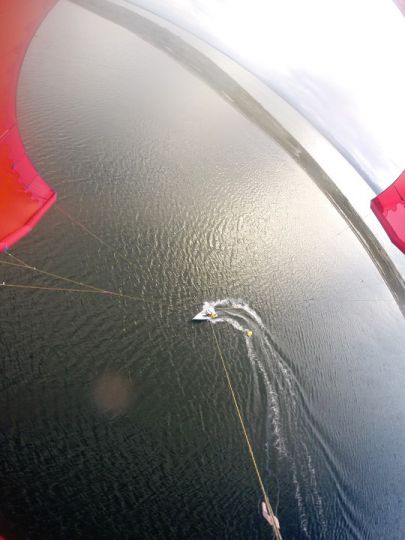 A new clientele and varied offers
For Fil d'Air, the target clientele is not kitesurfers. They are rather light sailors who want to try new experiences. A classic scheme met at Fil d'Air is the son wishing to make his father, sailing, discover the practice of kite.
The school's offers range from baptism to supervised rental, including the course.
Prospects for the future
The 2016 season is a test for Fil d'Air. The Kitetender's potential is multiple in terms of animations, like match racing or speed runs. Fil d'Air plans to develop partnerships with sponsors and promote support during races.