A technical know-how
R-Marina is a brand of the Norman company S2F Network. It relies on the know-how of the company's telecom engineers to offer a connected marina service, facilitating the management of marinas. Thanks to the network of wifi transmitters and R-Marina sensors connected to the port equipment (water, electricity, lighting, etc.), the technical teams can manage the various basins from the harbour master's office, using their usual management software.
A global offer, adaptable to existing equipment
Depending on the needs of the port manager, R-Marina offers different levels of service. The company can respond comprehensively, with its partners, to provide all equipment, including electrical terminals, water supply, access control... It can also be adapted on recent existing equipment by adding the sensors necessary for data acquisition.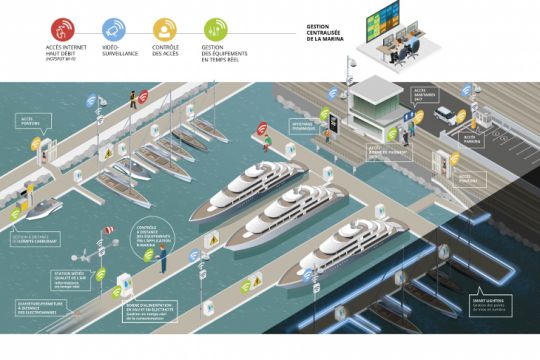 Gains for the boater
As Stéphanie de Bazelaire, manager of the company, explains, thanks to the infrastructure of the R-Marina network, the port simplifies its management but can also improve its services to the user. "We can thus use the terminals to offer an efficient wifi service to boaters in stopover. With systems such as automatic temperature-dependent water drain, the system can be put back into service quickly, even for short periods, for the benefit of recreational boaters. "
A company in full growth which aims at export
Created in 2011, S2F Network carries out the majority of its activity in marinas. Today it employs about twenty people, from the engineer to the technician for the installation of R-Marina. Its turnover rose from ?1 million in 2014 to ?2.7 million in 2016, proof of a good growth that it intends to pursue internationally. After several attractive contracts in France, notably in La Rochelle, the Vauban port of Antibes or with the Compagnie des Ports du Morbihan, it is counting on its rare capacity to propose a complete offer to continue its development. With around ten marinas already in the United Kingdom and a first in Florida, exports should boost activity. Salespeople in the USA and Italy are carrying this dynamic.