Lowell North, the self-taught
It all starts for Lowell North at the San Diego Yacht Club bar. While he was having a drink with his friend John Shoemaker one afternoon in 1957, he asked him the following question:"If I was launching a sailmaker, would you buy me a sail?" His friend's positive response surprised him, but decided to create North Sails. He rented a 6m x 24m space in San Diego, left his position as an aerospace engineer, and began making Snipe and Star sails.
By his own admission, it took Lowell North several years to find effective sail cuts,"Realizing that I didn't know much about sail shapes was a big help. This allowed me to test a wide variety of cuts, some of which proved to be faster. This objectivity has allowed us to make enormous progress in our sailing forms."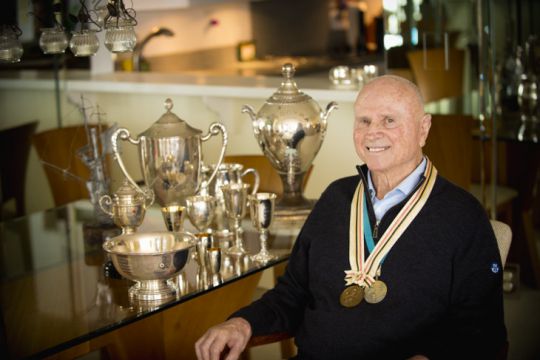 Lowell North, founder of North Sails
The study of materials
Lowell North was gradually joined by employees from competing sailmakers. Paul Merrill and Pete Benett brought with them valuable know-how in the manufacturing, cutting and sewing techniques of the widths.
In 1962, North Sails began empirically testing sail tissue elongation and fatigue. Samples were attached to the antenna of Lowell North's car. "We called it the faseyement test. The results were fairly consistent with the degradation in actual use. Then we simulated the car antenna test with a homemade machine shaking the samples on a rotating wheel." This marked the beginning of materials development at North Sails.

Faseyement test machine
The 30/30 test has become famous among specialists: 30 minutes at 30 miles per hour. North Sails then created the first laminated sail in 1977, for the 12 MJI Enterprise. In 1980, the sailmaker launched NorLam, a Mylar / Polyester laminate. In 1992, the first patented 3D membrane techniques arrived, followed by the North Sails Radian in 2008, followed by the North Sails 3Di in 2011.
A personal and professional network
Alongside the master sailmaker, Lowell North was a great sailor. Gold medalist in Star in 1968 in Mexico City, he also won bronze in Dragon in Tokyo in 1964. These numerous regattas have enabled him to weave an international network of sailing enthusiasts. His sailing friends opened North Sails floors in the United States and around the world, first in California and Wisconsin, and later in Germany, Belgium and Italy.
60 years after its creation, North Sails has become the world leader in the manufacture of boat sails. The brand is present through more than 150 sailmakers around the world. A great success for anyone who doubted finding customers.